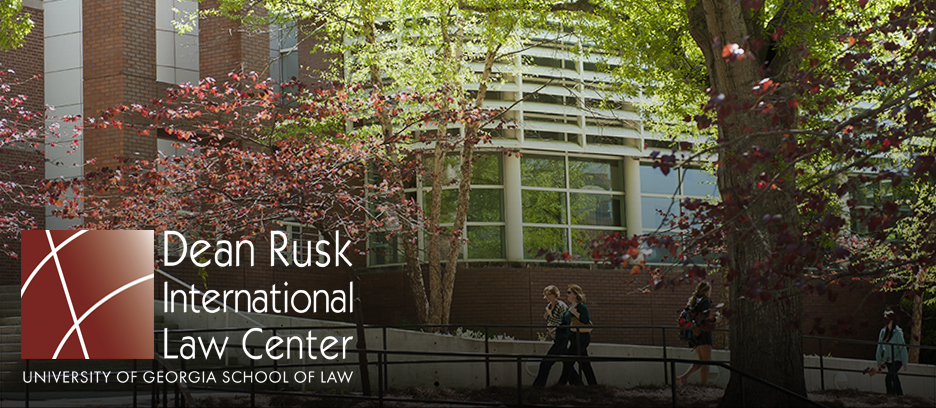 Visiting Scholars
Each year the Dean Rusk International Law Center at the University of Georgia School of Law hosts visiting scholars and researchers from across the globe. These visitors stay at Georgia Law for brief or extended periods in order to work with faculty, engage with students through mini-courses and less formal presentations, and take advantage of our Alexander Campbell King Law Library as well as other University of Georgia libraries, including the Richard B. Russell Library for Political Research and Studies.
Recent visitors
Scholars visiting us in recent academic years included:
Dr. Javier Dondé Matute, who earned his LL.M. degree from the University of Georgia School of Law in 1998, and is now a Professor of International Criminal Law at Instituto Nacionale de Ciencias Penales (National Institute of Criminal Sciences)

 in Mexico City, Mexico. While in residence in Spring 2018, he 

presented a work in progress, entitled "Criminal Responsibility as a Founding Principle of International Criminal Law," as part of our International Law Colloquium Series led by Professor Harlan G. Cohen.
Dr. Daniel Blum, a postdoctoral researcher at the Vienna University of Economics and Business/Wirtschafts Universität Wien, in Austria. During his visit, Blum consulted with Walter Hellerstein, Distinguished Research Professor & Francis Shackelford Distinguished Professor in Taxation Law Emeritus, on issues of international taxation. Blum also gave a faculty presentation of his paper, "Taxation of Non-Residents: Concepts and Limitations."
Dr. Ziv Bohrer, a member of the Faculty of Law at Bar-Ilan University, Ramat-Gan, Israel. Professor taught a 1-unit course entitled "Selected Issues in International Criminal Law," and presented to the law school faculty a paper in the same field.
A list of visiting scholars in previous years is here.
How to apply
Our Guidelines for Visiting Researchers and Scholars provide details on how to apply to become a visiting scholar or researcher at the University of Georgia School of Law is here.