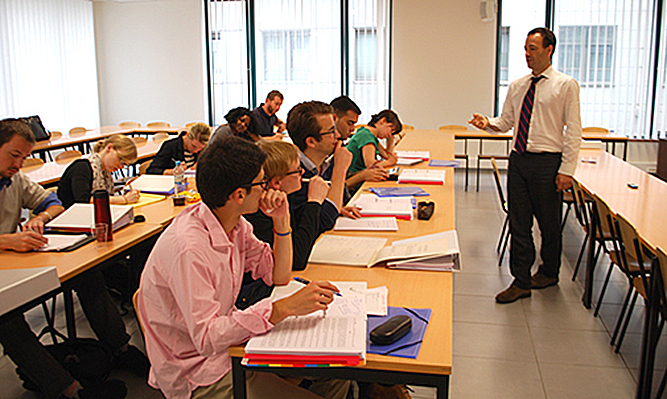 Curriculum 2015
EU Business Law and WTO Trade Practice Georgia Law Summer Program in Brussels and Geneva
Introduction to the Legal System of the European Union
(1 credit), taught by Prof. Antoine Bailleux, Université St.-Louis
In this course participants learn about how governance of the European Union is organized and the common principles that bind together the twenty-eight member states. This introduction to EU law will explain how the main institutions and bodies of the European Union cooperate with each other in the drafting and adoption process related to legally binding acts, with particular emphasis on the European Court of Justice and the judicial remedies available in the EU legal order. The course also includes a presentation of the various techniques whereby the EU authorities seek to harmonize national legislation and ensure the functioning of the EU's internal market.
Aspects of European Union Business Law
(1 credit), taught by Prof. Alain Strowel, Université St.-Louis
This course provides an introduction to some selected aspects of EU business law that are representative of the typical practice of an international law firm, such as competition law (including antitrust and merger control) and intellectual property, in particular issues such as the exhaustion of intellectual property rights and the interface between IP and competition issues. In addition, business and trade-related aspects of environmental law will be covered. Participants will also gain an overview of tax law related to the day-to-day practice of lawyers based in the EU.
International Trade Law Practice under the WTO
(1 credit), taught by Ambassador C. Donald Johnson, University of Georgia School of Law
This course examines legal issues and trade practices under the World Trade Organization (WTO). It begins with a history and overview of the WTO legal system, including obligations and commitments.  Topics will include the dispute settlement system and major legal issues under the WTO. Participants will have the opportunity to hear from practitioners about trade-related litigation and hot topics in WTO jurisprudence. The course will include guest speakers from the World Trade Organization and the Office of the United States Trade Representative (USTR) as well as private international litigators.