Class Profile
2014 Entering Class at a Glance

Total Enrollment

185

Median LSAT Score

163

Median GPA

3.70

Minority Enrollment

18%

Female / Male Enrollment
44% / 56%
Average Age
23
Schools Represented

70

States Represented
23
---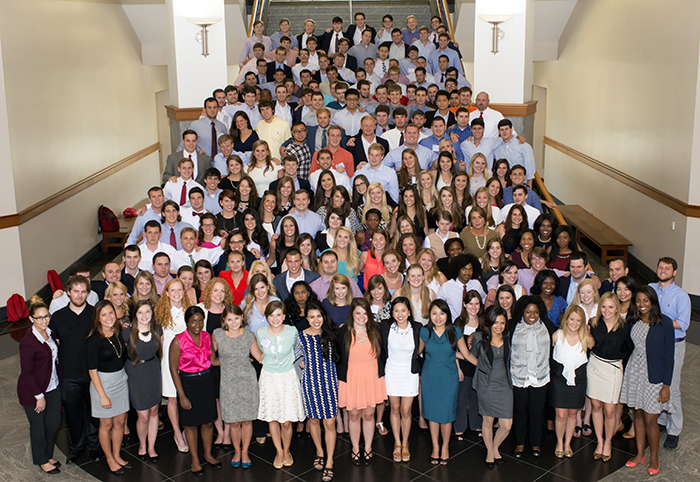 Georgia Law Class of 2017
Applications: 2,117
An Experienced and Diverse Class
Members of the Class of 2017 include: military veterans; paralegals; financial analysts; dance instructors; Eagle Scouts; lifeguards; entrepreneurs; teachers; varsity athletes in cheerleading, rugby, rowing, football and soccer; members of the marching band, mock trial team, debate team, fraternities, sororities, and honor societies; participants in marathons and triathlons; and volunteers for national, state, and local political campaigns.
Members of the Class of 2017 worked:  in the United States Senate and House of Representatives and the Georgia General Assembly; for private law firms, undergraduate universities, state governments, prosecutors, and public defenders; for the Consulate General of The Republic of Liberia; for the WSB-TV Channel 2 action News; veterinary hospitals  and for corporations including Target and Steel Fab Inc.
Members of the Class of 2017 volunteered for: Pet Helpers, Inc.; Books For Africa; Lumpkin County; UNC Hospital; Habitat for Humanity; Organizing for America; Serenity House; UGA HEROS; Athens Peer Court; Congressional Black Caucus; AmeriCorps VISTA; Child Advocacy Centers of Georgia; Literacy AmeriCorps Reading Tutor; Citizen Advocacy; Relay For Life; Must Ministries; and in various local food banks, women's shelters, homeless shelters, youth development groups, and humane societies.
Members of the Class of 2017 majored in: Advertising, Agriculture, Fashion Merchandising, Finance, French, Psychology, History, Civil Engineering, Criminal Justice, Finance, Journalism, Economics, Religious Studies, English, Business Management, International Affairs, Liberal Arts, Spanish, Marketing, Philosophy, Real Estate, Classical Studies, Music, Anthropology, Public Relations, Chemistry, Computer Sciences, Sociology, Geography, Animal Science, and Social Work.
Locations Where Members of the Class of 2017 lived or studied: Alabama, Arizona, California, Colorado, Connecticut, Delaware, Georgia, Florida, Illinois, Iowa, Maryland, Massachusetts, New Jersey, New York, North Carolina, Ohio, Oregon, Pennsylvania,  South Carolina, Tennessee, Texas, Virginia, Washington, Washington D.C., and Wisconsin.  International: Ghana, Liberia, United Kingdom, Canada, Rwanda, Brazil, Buenos Aires, East Asia, China, Italy, Barbados, Spain, Belgium, Costa Rica, Australia, Netherlands , France, and Austria.
Languages Spoken by the Members of the Class of 2017 include: French, German, Arabic, Portuguese, Chinese, Spanish, and Korean.