Class Profile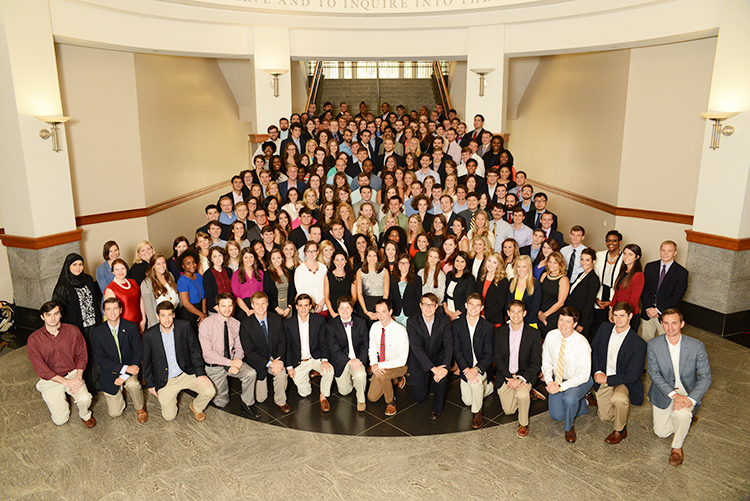 Class of 2018 At a Glance
 

Total Enrollment

189

Median LSAT Score

162

Median GPA

3.71

Minority Enrollment

17%

Female / Male Enrollment
50% / 50%
Average Age
24
Schools Represented

75

States Represented
25
---

Georgia Law Class of 2018
Applications: 2,153
An Experienced and Diverse Class
Members of the Class of 2018 include: service members; police officers; court clerks and paralegals; Eagle Scouts and Girl Scouts; student mentors; camp counselors and directors; members of mock trial team, Model UN, debate team, and student government; band members; musicians; scholarship recipients; Dean's and President's List students; Congressional interns; bank tellers; tutors; teachers and teaching assistants; legislative assistants; store managers; bus operators; business owners; pilots; ROTC cadets; ballroom dancers; a black belt; an MLS player; financial advisors; nannies; comedians; writers; lifeguards; rock climbers; club founders; vocalists; coaches; equestrians; programmers; and athletes in baseball, crew, golf, sailing, powerlifting, soccer, rugby, ice-skating, track, tennis, gymnastics, water polo, basketball, lacrosse, volleyball, and cheerleading.
Members of the Class of 2018 worked for: district attorneys, private law firms, public defenders, municipal courts, and Attorneys General; national, state, and local political campaigns; banks; family businesses; several nonprofits; performing arts centers; golf courses; U.S. Army;  United States Peace Corps; Teach for America; restaurants; veterinary clinics; magazines; MLS & MLB teams; and for corporations including FedEx, General Electric, ING, Best Buy, BooksAMillion, Toys R Us, Target, Kohl's, Macy's, Starbucks, and Panasonic.
Members of the Class of 2018 volunteered for: retirement facilities, family shelters, Crossroads NOLA, UGA Miracle, CASA, Ronald McDonald House, soup kitchens and food banks, local radio stations, local churches, Peace Corps, Habitat for Humanity, Amnesty International, Kiwanis, LGBT groups, American Red Cross, animal shelters, Boys and Girls Clubs, hospitals, Unicef, children's groups, UGA HEROs, Special Olympics, Humane Societies, St. Jude's, YMCA, PETA, Toms Club, Girl Scouts, Bright Future Atlanta, Big Brothers Big Sisters, The Guide Dog Foundation, AutismUGA, and Relay for Life.
Members of the Class of 2018 majored in: Psychology, English, Classics, History, International Relations, Economics, Political Science, Speech, Computer Science, Foreign Languages, Philosophy, Education, Sociology, International Business, Biology, Finance, Communications, Environmental Sciences, Art History, Spanish, Insurance and Risk Management, Anthropology, Criminal Justice, Electrical Engineering, Medicine, Accounting, Journalism, Entrepreneurship, International Studies, Business Administration and Management, Family Relations, Marketing, Sports Management, International Affairs, Policy,  Women's Studies, and Advertising.
Locations Where Members of the Class of 2018 lived or studied: Georgia, Tennessee, Virginia, South Carolina, Maine, Louisiana, North Carolina, Kentucky, California, New Mexico, New York, New Jersey, Texas, Colorado, Illinois, Washington, D.C., Wisconsin, Minnesota, South Dakota, Alabama, Ohio, Rhode Island, Maryland, Indiana, Florida, Nebraska, Nevada, Pennsylvania, Missouri, Massachusetts, Connecticut, West Virginia, Arizona, Michigan, and Kansas. International: Scotland, England, Cameroon, Canada, India, Australia, New Zealand, Fiji, South Africa, Israel, Spain, China, Germany, France, Russia, UAE, Brazil, Poland, South Korea, Italy, Belgium, Ireland, Czech Republic, Nicaragua, Argentina, Uganda, Turkey, Austria, Saudi Arabia, Pakistan, and Mongolia.
Languages Spoken by Members of the Class of 2018 include: French, Spanish, Mandarin, Korean, Fulfulde, Latin, Tamil, Hindi, Hebrew, Gujarati, German, Farsi, Russian, Polish, Turkish, Urdu, and Mongolian.