The Edith House Lecture Series


Home |  Officers  |  Events  |  Edith House Lecture  |  Outlines |  WLSA Executive Board Elections Information
The Edith House Lecture Series
The Edith House Lecture Series in Law is named for Winder native, Ms. Edith House, co-valedictorian of the Class of 1925. Ms. House was one of the two women to graduate in the Class of 1925 – the first Class at the School of Law to graduate women. Ms. House practiced law for nearly forty years, retiring from her esteemed position as Assistant US Attorney for the Southern District of Florida in 1963.  She lived in Jacksonville, Florida until her death in December 1987.
The Edith House Lecture Series seeks to extol the memory of Ms. House by paying tribute to her accomplishments each year by bringing a female legal mind to the School of Law to speak on her experiences being a woman in the law.
The 2014 - 2015 Edith House Lecturer
Plans for the 2014-2015 Edith House Lecture are already underway. The lecture will be held in the Spring of 2015. Stay tuned for more details!
2010 Edith House Lecture
WLSA was honored that Dahlia Lithwick, a senior editor and legal journalist for Slate magazine, delivered our Edith House Lecture last year. Lithwick is an accomplished writer whose work has appeared in a wide variety of well respected newspapers, magazines, and websites, in addition to Slate. She presented "Wise Women? What Women Bring to the Bench and How to Talk About It Like Gentlemen."  During the lecture, Lithwick addressed the status of women in the law as well as the future of women on the bench and in the law.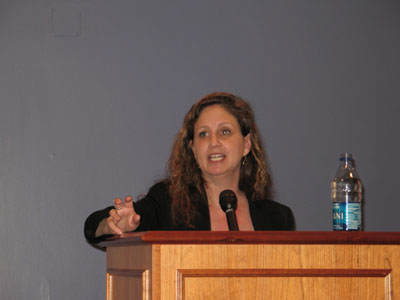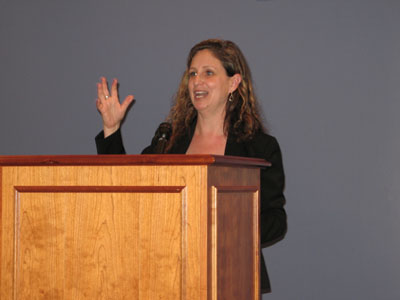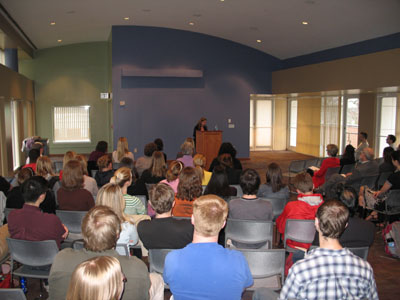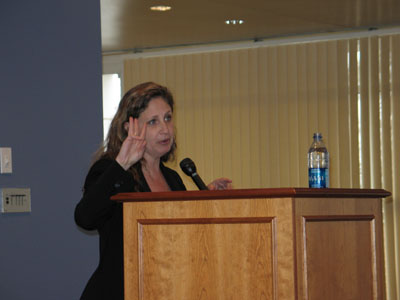 Past Lectures
Click on links to enjoy transcripts, audio and video of past lectures.
Date

Speaker

Title

Audio/Video

2014

Teresa Wynn Roseborough, Home Depot General Counsel

| | |
| --- | --- |
|   | It's time to try defying gravity: one woman's thoughts on having it all |

Video available

2013

Justice Edith H. Jones, U.S. Court of Appeals for the Fifth Circuit

Why the constitution matters and why women should care

Video available

2012

Leslie M. Turner, Coca-Cola North America General Counsel

Winning or Winning with Integrity? A Lawyer's Role in the Corporate World

Video available

2011

Chief Justice Carol W. Hunstein, Supreme Court of Georgia

Women and the Law: We've Come a Long Way ... Maybe

Video available

2010

Dahlia Lithwick, Slate magazine

Wise Women? What Women Bring to the Bench and How to Talk About It Like Gentlemen

Video available

2009

Prof. Felice J. Batlan, Chicago-Kent College of Law

Are We Our Mother's Law Students?: Women's Law School Experiences and an Agenda for Action

Video available

2008

Shirley M. Hufstedler, former U.S. Secretary of Education

Freedom and Justice for Some: Federal Judicial Review for Guantanamo Bay Prisoners

Video available

2007

Harriet McBryde Johnson, Author and Disability Rights Attorney

Disability Rights: A
Liberation Movement for All People

No

2006

Prof. Sarah R. Weddington, University of Texas, Austin

Some Leaders Are Born Women

Video available

2005

Chief Justice Jean H. Toal, South Carolina Supreme Court

Women in the Law

Video available

2004

Prof. Linda H. Krieger, University of California, Berkeley, School of Law

Naturalizing Anti-Discrimination Law

Audio available

2003

Kathy Hall-Martinez, Director, International Program of the Center for Reproductive Law

Using Legal Strategies to Promote Women's Reproductive Rights: Achievements and Challenges

Audio available

2002

Kelly D. Askin, Fellow, Carr Center for Human Rights Policy, Harvard University

Securing Justice for Women in the United Nations International War Crimes Tribunals and Beyond

Audio available

2001

Prof. Dorothy E. Roberts, Northwestern University

Missing Voices: Black Mothers and the Politics of Child Welfare

Audio available

1999

Judge Susan Oki Mollway, U.S. District Court of Hawaii

Getting Confirmed as a Federal Judge

Audio available

1998

Prof. Sarah R. Weddington, University of Texas, Austin

Roe v. Wade: 25 Years Later

Audio available

1997

Prof. Anne M. Coughlin, University of Virginia School of Law

Sex and Guilt

Audio available

1996

Prof. Martha S. West, University of California, Davis, School of Law

What's in it for me? Why Don't White Women Support Affirmative Action

Audio available

1995

Chief Judge Dorothy T. Beasley, Georgia Court of Appeals

Why Are We Here

Audio available

1995

Prof. Mary E. Becker, University of Chicago Law School

The First Amendment and Sexual Harassment at School and at Work

Audio available

1994

Brooksley Born, Partner, Arnold & Porter, Washinton DC

Private Practice/Public Service - Reminiscences About the Women's Rights Movement

Audio available

1993

Prof. Carrie Menkel-Meadow, University of California, Los Angeles, School of Law

Mainstreaming Feminist Legal Theory and the Production of Legal Knowledge

No

1992

Prof. Patricia J. Williams, University of Wisconsin Law School

Banished Bodies

1991

Prof. Mari J. Matsuda, University of Hawaii Schoolof Law

Towards a Feminist Theory Interconnecting Subordinations

Audio available

1990

Prof. Patricia A. Cain, University of Texas School of Law

A Postmodern Feminist Critique of Equal Protection Doctrine

Video

1989

Prof. Martha Minow, Harvard Law School

Diversity: Gender, Religion and Race

Audio available/Video

1988

Prof. R. Lea Brilmayer, Yale Law School

International Affairs and the Implausibility of Democracy

Audio available

1987

Antonia H. Chayes, Chairman, ENDISPUTE, Inc.

Beyond Negotiation: Alternative Dispute Resolution

Audio - Interview with WUGA only

1985

Justice Shirley S. Abrahamson, Wisconsin Supreme Court

Justice and Juror

Audio available

1985

Prof. Eliane Vogel-Polsky, University Libre De Bruxelles

Positive Action within the European Economic Community

Audio available

1984

Judge Gladys Kessler, District of Columbia Superior Court

The Crisis in Child Support

Audio available

1983

Prof. Nadine Taub, Rutgers School of Law - Newark

Redefining the Equality Principle: Formal Equality, Substantive Equality, and Special Treatment for Women

No