Judicial Clerkship Job Fair: Orientation and Application Guidance
Date:
Monday, November 18, 2019 -

12:00pm

to

12:50pm
Each year, our Judicial Clerkship Job Fair connects numerous 3Ls with post-graduate clerkships in courts througout Georgia.  Held in conjunction with the Superior Court Judges' annual conference in Athens, the pre-selected interviews have become a regular part of state-level judicial clerk hiring.
Interested 3Ls should attend the information session to learn how the job fair works, and how to maximize successful applications.
Please RSVP in Symplicity or via email to profdev@uga.edu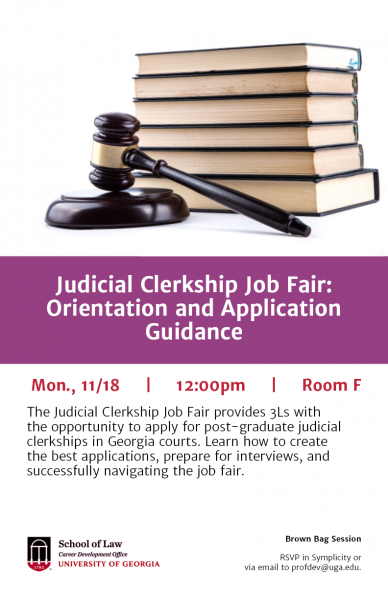 Contact Name:
Beth Shackleford, Director of Student Professional Development