Firm and Corporation Alumni/Alumnae Challenge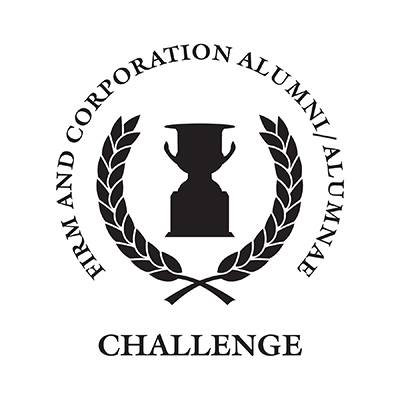 Each year, firm and corporations with five or more alumni/alumnae join together to support the University of Georgia School in the Firm and Corporation Alumni/Alumnae Challenge. We are pleased to celebrate the 50 organizations and over 750 graduates that participated in this year's challenge.  The firms and corporations reaching 100% participation in their category were awarded the Challenge Cup trophy, while others that reached 100% participation were presented with a 100% participation plaque.  The 2018-2019 winners are recognized below. 
View a Summary of the 2019-2020 Challenge
All alumni/alumnae participating are asked to make a charitable gift of $100 or more by the June 30th deadline.  Organizations are divided into three categories based on the number of law graduates.
Category A – Organizations with 20 or more law graduates
Category B – Organizations with 10 - 19 law graduates
Category C – Organizations with 5 - 9 law graduates
Organizations receive a number of benefits exclusively associated with the Firm and Corporation Alumni/Alumnae Challenge.
The first organization to reach 100% in their category will hold the Challenge Cup Trophy, for their respective category, for the next fiscal year.
All firms who reach 100% participation will receive a participation plaque.
Firm name and participation displayed in the online Annual Report.
For more information on how to participate, please contact:
Lynnsey Lafayette
To make your gift to the University of Georgia School of Law today:
Mail a check made payable to "UGA Foundation" with Law School Fund on the memo line to:
ATTN: Office of Law School Advancement
University of Georgia School of Law
225 Herty Drive
Athens, GA 30602
Challenge Cup Trophy Winners
FY2018 – 2019
Taylor English Duma, LLP – 23 alumni – Alison M. Ballard '09
Hulsey Oliver & Mahar, LLP – 12 alumni – Vanessa E. Sykes '01
Bodker, Ramsey, Andrews, Winograd & Wildstein, P.C. – 5 alumni – Stephen C. Andrews '83
FY2017 – 2018
Taylor English Duma, LLP – 24 alumni – Alison M. Ballard '09
Downey & Cleveland – 10 alumni – William C. Anderson '91
Bodker, Ramsey, Andrews, Winograd & Wildstein, P.C. – 5 alumni – Stephen C. Andrews '83
FY2016 – 2017
Hulsey, Oliver & Mahar, LLP – 13 alumni – Jason A. Dean '99
Bodker, Ramsey, Andrews, Winograd & Wildstein, PC – 6 alumni – Stephen C. Andrews '83
 
FY2015 – 2016
Taylor English Duma, LLP – 23 alumni – Alison M. Ballard '09
Hulsey, Oliver & Mahar, LLP – 13 alumni – Jason A. Dean '99
Gulfstream Aerospace, Corp. – 5 alumni – J. Stephen Albright '10
FY2014 – 2015
Hulsey, Oliver & Mahar, LLP – 12 alumni – Jason A. Dean '99
Smith Gilliam Williams & Miles – PA – 7 alumni – M. Tyler Smith '90
FY2013 – 2014
Hulsey, Oliver & Mahar, LLP – 12 alumni – Julius M. Husley '63
Downey & Cleveland – 8 alumni – W. Curtis Anderson '84
FY2012 – 2013
Hulsey, Oliver & Mahar, LLP – 12 alumni – Julius M. Husley '63
Brennan & Wasden, LLP – 7 alumni – Wiley A. Wasden '94
 FY2011 – 2012
Fortson, Bentley and Griffin – 14 alumni – Jeffrey W. DeLoach '03
Pope, McGlamary, Kilpatrick Morrison & Norwood – 6 alumni – MJ Blakely '06
  FY2010 – 2011
Hulsey, Oliver & Mahar, LLP – 12 alumni – Julius M. Husley '63
Littler Mendelson – 6 alumni – John T. Stembridge '03
 FY2009 – 2010
Brinson, Askew, Berry Seigler, Richardson & Davis, LLP – 9 alumni – J. Anderson "Andy" Davis '84