Firm and Corporation Alumni/Alumnae Challenge 2017-2018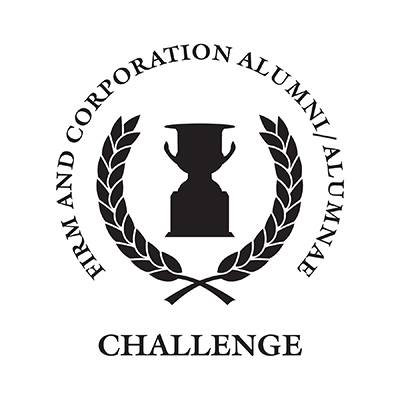 Each year, firms and corporations with five or more alumni/alumnae join together to support the University of Georgia School of Law in the Firm and Corporation Alumni/Alumnae Challenge. We are pleased to celebrate those firms and corporations that participated in 2017-2018.  The 2017-2018 Challenge included 48 firms and corporations, involved over 700 graduates and generated $285,908 in charitable giving going directly to the Law School Fund, the law school's single largest source of student scholarships.  Please take a moment to congratulate those volunteers and leaders who helped to increase participation in annual giving to our law school. 
The firms and corporations that first reached 100% participation in their category have been awarded the Challenge Cup, while others that reached 100% participation were presented with a participation plaque.  This year we honor the winners and their Firm Agents from all categories: Category A (Organizations with 20+ law graduates), Category B (Organizations with 10 - 19 law graduates) and Category C (Organizations with 5 - 9 law graduates).
---
2017-2018 Challenge Cup Winners
Category A:  Taylor English Duma, LLP – Alison M. Ballard (J.D. '09)
Category B:  Downey & Cleveland – W. Curtis Anderson (J.D. '91)
Category C: Bodker, Ramsey, Andrews, Winograd & Wildstein, PC – Stephen C. Andrews (J.D. '83)
2017-2018 100% Participation Winners
Blasingame, Burch, Garrard & Ashley, P.C. - Patrick H. Garrard (J.D. '07)
Bodker, Ramsey, Andrews, Winograd & Wildstein, P.C. - Stephen C. Andrews (J.D. '83)
Bondurant Mixson & Elmore, LLP - Edward B. Krugman (J.D. '79)
Brinson, Askew, Berry, Seigler, Richardson & Davis, LLP - A. Frank Beacham (J.D. '01)
Butler Wooten & Peak LLP - Tedra L. Cannella (J.D. '07)
Downey & Cleveland, LLP - W. Curtis Anderson (J.D. '91)
Evert Weathersby Houff - Amy Lou Reynolds (J.D. '94)
Fortson, Bentley and Griffin, P.A. - David K. Linder (J.D. '85)
Hulsey, Oliver & Mahar, LLP - Jason A. Dean (J.D. '99)
Pope McGlamry - Michael J. Blakely Jr. (J.D. '06)
Smith, Gilliam, Williams & Miles, P.A. - M. Tyler Smith (J.D. '93)
Taylor English - Alison M. Ballard (J.D. '09)
Tisinger Vance PC - Steven T. Minor (J.D. '92)
Tucker Long, P.C. - Thomas W. Tucker (J.D. '74)