Firm and Corporation Alumni/Alumnae Challenge 2018-2019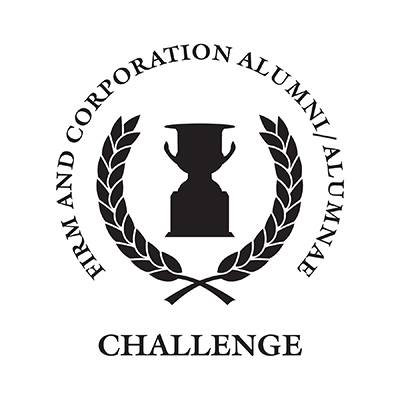 Each year, firms and corporations with five or more alumni/alumnae join together to support the University of Georgia School of Law in the Firm and Corporation Alumni/Alumnae Challenge. We are pleased to celebrate those firms and corporations that participated in the 2018-2019 Challenge.  The 2018-2019 Challenge included 50 organizations and involved over 750 graduates with $261,926 in charitable giving going directly to the Law School Fund. While all gifts to the law school count as participation in the Challenge, the Law School Fund remains the focus. This fund is the law school's single largest source of student scholarships while also fueling students' success by providing funding for book stipends, professional attire, bar prep courses and much more.  Please take a moment to congratulate those volunteers and leaders who helped to increase participation in annual giving to the law school. 
The firms and corporations that first reached 100% participation in their category have been awarded the Challenge Cup trophy, while others that reached 100% participation were presented with a 100% participation plaque.  This year we honor the winners and their Firm/Corporation Agents from all categories: Category A (Organizations with 20+ law graduates), Category B (Organizations with 10 - 19 law graduates) and Category C (Organizations with 5 - 9 law graduates).
2018-2019 Challenge Cup Trophy Winners
Category A:  Taylor English Duma, LLP – Alison M. Ballard (J.D. '09)
Category B:  Hulsey Oliver & Mahar, LLP – Vanesa E. Sykes (J.D. '01)
Category C: Bodker, Ramsey, Andrews, Winograd & Wildstein, P.C. – Stephen C. Andrews (J.D. '83)
2018-2019 100% Participation Winners
Blasingame, Burch, Garrard & Ashley, P.C. - Patrick H. Garrard (J.D. '07)
Bodker, Ramsey, Andrews, Winograd & Wildstein, P.C. - Stephen C. Andrews (J.D. '83)
Bondurant Mixson & Elmore, LLP - Edward B. Krugman (J.D. '79)
Brinson, Askew, Berry, Seigler, Richardson & Davis, LLP - A. Frank Beacham (J.D. '01)
Butler Wooten & Peak LLP - Tedra L. Cannella (J.D. '07)
Evert Weathersby Houff - Amy Lou Reynolds (J.D. '94)
Fortson, Bentley and Griffin, P.A. - David K. Linder (J.D. '85)
Hulsey, Oliver & Mahar, LLP - Jason A. Dean (J.D. '99)
Pope McGlamry - Michael J. Blakely Jr. (J.D. '06)
Smith, Gilliam, Williams & Miles, P.A. - M. Tyler Smith (J.D. '93)
Stewart, Melvin & Frost, LLP - Scott A. Ball (J.D. '93)
Taylor English - Alison M. Ballard (J.D. '09)
Tisinger Vance PC - Steven T. Minor (J.D. '92)
Tucker Long, P.C. - Thomas W. Tucker (J.D. '74)