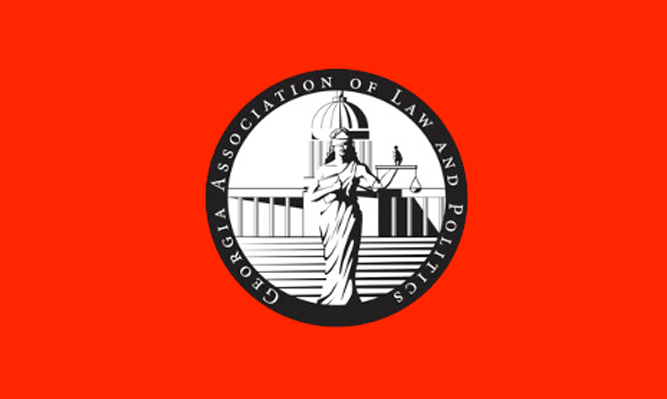 Georgia Association of Law and Politics
About
Founded in 2011, Georgia Association of Law & Politics is a student organization dedicated to fostering political discussion at Georgia Law School. Working with partners across the state, we serve to involve Georgians in their state & local governments.
Symposium
The Georgia Association of Law & Politics annual Symposium features Georgia's brightest legal minds and political luminaries discussing critical issues facing our state and nation.  To view past Symposia and panelists, click here.
Join us in Athens for our fourth annual Symposium
Friday, October 17, 2014 - UGA School of Law, Rusk Center
8:30-8:45 AM           Breakfast refreshments available 
8:50-9:00 AM           Welcome/Introductory Remarks
9:00-10:30 AM         Panel I - Impacts of Date Changes on 2014 Election
10:40-12:10 PM       Panel II - Privatizing Parole 
12:10-1:15 PM         Lunch & Keynote Speech
                                           Stephanie Stuckey Benfield, Executive Director, Green Law 
1:30-3:00 PM           Panel III - The Rise of the Georgia "City": The Politics of Cityhood Initiatives
Legislative Day
As lawyers, we are each called upon to be leaders in our communities.  It is therefore incumbent upon us to take an active role in our state's governance.
Early each spring semester, GALP organizes a UGA Law Legislative Day in Atlanta.  This event provides UGA Law students with an opportunity to travel to Atlanta to meet with our state's top political and legal leaders.  Past trips have included meetings with Governor Nathan Deal, Speaker David Ralston, Georgia Supreme Court Justice Harris Hines, Attorney General Sam Olens, and many others.
Food Frenzy
In 2012, Georgia Attorney General Sam Olens charged Georgia's
legal community with the mission of helping the 1.6 million
Georgians who need food assistance each year.  Georgia's Legal
Food Frenzy is a competition between law firms, legal organizations,
and law schools to raise monetary and food donations for food
banks across the state.

Each spring semester, GALP sponsors a campus-wide competition
between 1L sections and law school organizations.  The group that
collects the largest donation is the recipient of the GALP Cup.
GALP Cup Recipients
          2013           IP Law Society
          2012           1L Section Z
---
Student organizations are not a part of nor are they agencies of the University of Georgia School of Law or the University of Georgia.  Neither the University of Georgia School of Law nor the University of Georgia direct, supervise, or control these organizations.  Each organization is a separate and independent organization and is responsible for and manages its own activities and affairs. The University of Georgia School of Law and the University of Georgia are not responsible for any of these organizations' contracts, acts or omissions.
The content and opinions expressed in student organization websites linked from this web page do not necessarily reflect the views of nor are they endorsed by the University of Georgia or the University System of Georgia.