International Judicial Training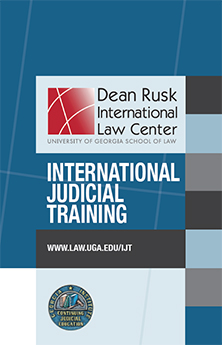 IJT
Since 1998, judges, prosecutors and court personnel from many countries have benefited from the International Judicial Training in northern Georgia. The aim of the program is to increase efficiency and accountability in the administration of justice and thereby foster an environment conducive to democratization, trade and investment, and social justice.  Participants enjoy visits to a variety of courts and close interactions with practicing judges and lawyers and academic leaders. They return to their countries with specialized knowledge regarding the U.S. court system and legal education, expertise in judicial administration, and a valuable comparative perspective. View the IJT Brochure (printable PDF).
LEADERSHIP PARTNERS
Your partners in judicial training are the Dean Rusk International Law Center, for nearly four decades the nucleus of international programs at the University of Georgia School of Law, and the Institute for Continuing Judicial Education, a resource consortium comprising Georgia's Judicial Branch, the State Bar of Georgia, and Georgia's American Bar Association-accredited law schools.
IJT instructors are practicing judges and lawyers as well as members of the law school's distinguished faculty which includes 5 professors who have served as law clerks to Justices of the U.S. Supreme Court and many academic leaders who have received awards for excellence in teaching and scholarship.
IJT LOCATION
Our training programs take place at locations in the State of Georgia, in the southeastern United States. Home to the world's busiest airport, Hartsfield-Jackson International, Georgia has a diverse population and a diversified, global economic base.
University of Georgia School of Law

ATHENS
This quintessential American college town, with many unique shops, restaurants, and live music venues, is home to the state's flagship research institution, the University of Georgia. Founded in 1785, the university educates more than 35,000 students each year. The International Judicial Training Program is based at Georgia Law's Dean Rusk International Law Center on the beautiful north campus of the University of Georgia. Named for Dean Rusk, a former U.S. Secretary of State and Georgia Law professor, in honor of his contributions to international legal education, the Rusk Center continues the tradition of excellence in global programming to this day.

Downtown Atlanta, GA Skyline

ATLANTA
The capital city of Georgia, Atlanta is home to more than 5.5 million people, a U.S. trade hub and home to many multinational businesses, including 13 Fortune 500 companies. Also located in Atlanta are 79 full and honorary consulates and trade offices, 38 binational chambers of commerce, and a new international arbitration center.
COURT VISITS
Our training program includes visits to a variety of courts in Georgia, including trial and appellate courts as well as specialty courts, such as drug court and mental health court. Participating judges have the opportunity to view court proceedings and engage in discussions with their American counterparts.
TOPICS
Below is a partial listing of courses that have been offered in our standard two-week training. Programs may be tailored to meet the continuing education and development needs of a particular country.
Court Systems in the USA
American Criminal Law & Procedure
Civil Law Practice in the USA and Access to Courts
Applications of International Law in Courts of the U.S.
Professionalism & Ethics for Judges
Judicial Administration
Decision-Making at the U.S. Supreme Court
Dispute Resolution in Cross-Border Class Actions and Other Complex Litigation
Operation of a Unified Trial Courts Justice Administration Center
INTERPRETATION SERVICES
Training sessions take place in English. Some simultaneous interpretation services are available; please contact us for further information.
CONTACT INFORMATION
For up-to-date information about planned program costs, specific training requests, and application procedures, please contact:
Dr. Laura Kagel
Dean Rusk International Law Center
University of Georgia School of Law
Dean Rusk Hall 233
lkagel@uga.edu
(706) 542-5141