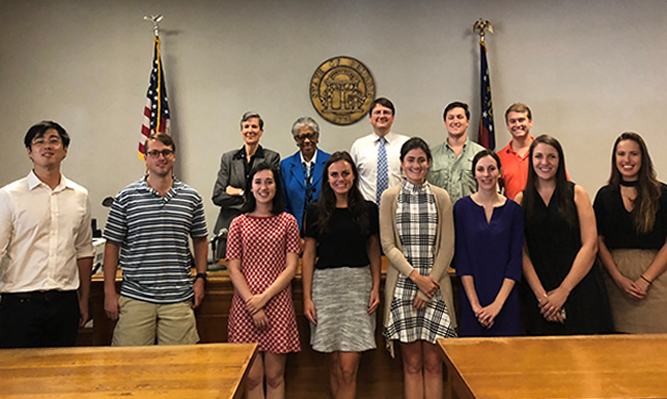 Mediation Clinic
Mediation I
What is required for Mediation I?
Mediation 1 is a three hour, three credit course that meets weekly. It is a highly participatory course, and therefore class attendance and participation are extremely important. Missed classes must be approved by the instructor, and may result in failure to meet requirements for ODR registration. The course may be taken for a grade without registration with the Georgia Office of Dispute Resolution, in which case class attendance for each class is not mandatory.
Is there a writing requirement for Mediation I?
There is very little out of class work involved in Mediation I, hence class participation is critical to your grade and to becoming a competent and ethical mediator. Some reading and out of class preparation is required, but the bulk of your work and learning will be done in class.
Is there an exam for this course?
There is a final exam that is performance based and involves participating in mediation simulations similar to the role plays performed in class. Typically the exam is administered during the last class rather than during exam period.
How do I enroll in Mediation I?
Registration eligibility for Mediation I is based on the points allocation process. Enrollment is limited to 15 students per section. Mediation I is offered during Fall and Spring and Summer semesters.
What else do I need to know?
Mediation I hours do not count towards your clinical credit cap.