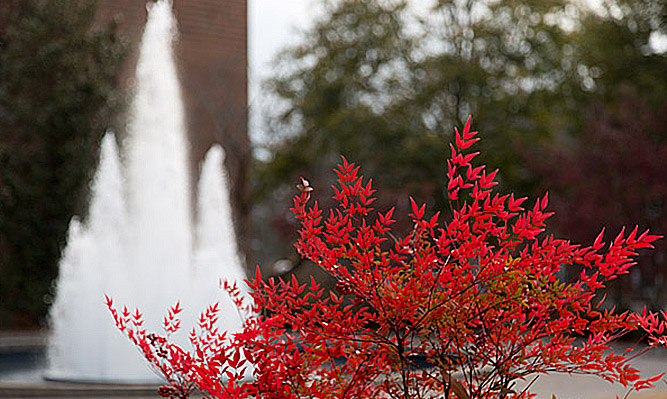 Class of 2021
Welcome to the University of Georgia School of Law Class of 2021!  This Admitted Student Information page is intended to ease your transition into law school this fall.  Should you have any questions about the information here or any other matter, do not hesitate to contact the Office of Law Admissions at 706-542-7060.  You can also connect with the law school community on Facebook at www.facebook.com/UGALawSchool.
The Student Bar Association has set up a Facebook page just for students admitted to the Class of 2021!
Please visit this site frequently for important updates and deadlines!
As an admitted student, you will receive opportunities to hear from members of the law school community outside of the admissions office, such as current students, faculty, alumni/ae, and friends of the school. If you DO NOT wish to receive these types of contacts, please let us know by emailing Brandi Saunders at bsaundrs@uga.edu. Your privacy is important to us.
---
Confirm Your Enrollment
Early Decision Deposit Deadline
Submit your nonrefundable $500.00 Deposit by January 31, 2018 to retain your place in the Class of 2021.
First Deposit Deadline
Submit your nonrefundable $150.00 First Deposit by April 15, 2018 to retain your place in the Class of 2021 through June 1, 2018.
In order to facilitate a visit to campus, your first deposit will be reduced by $100 if you schedule a visit of the law school through our offices prior to April 15th.  This includes attending our Admitted student Open House on Saturday, March 24, 2018. 
Second Deposit Deadline
Submit your nonrefundable $350.00 Second Deposit by June 1, 2018 to retain your place in the Class of 2021. 
For information on payment options, please visit: law.uga.edu/deposit-deadlines.
---
Law Preview Scholarships Sponsored By Lexis Nexis
Law Preview (the nation's largest law school prep course) has teamed up with Lexis Nexis, one of the world's leading online research providers, to provide Law Preview Scholarships to select members of our entering class.  Lexis Nexis has generously agreed to help entering students prepare for the unique challenges they will face during their 1L year at UGA Law by paying the cost of tuition for a law school prep course.  Please visit the following webpage to see if you meet the scholarship criteria: lawpreview.barbri.com/scholarships/. 
Law Preview's One Lawyer Can Change The World $10k Scholarship
Are you the next great legal mind? In partnership with the Phi Alpha Delta Law Fraternity, Law Preview will be awarding one hard-working incoming law student $10,000 towards their 1L year.  The application deadline is April 15th and you can review scholarship details here: lawpreview.barbri.com/10000-get-information/.
---
Connect with a University of Georgia School of Law Professor
Faculty are the lifeblood of a law school. At University of Georgia School of Law, you will find a vibrant, stimulating and exciting learning environment driven by an accomplished corps of superior teachers and scholars. Our professors maintain an open door policy and are available to answer questions concerning the classroom experience and curriculum as well as their own area of legal expertise.
We invite you to experience our welcoming environment and approachable faculty as an admitted student to the School of Law Class of 2021.
Please use the following form to be contacted by a law school faculty member in the next few weeks.
law.uga.edu/faculty-interest-form
---
Upcoming Events
Edith House Lecture
March 23, 2018 - 3:30 pm - Athens, GA
Inaugurated in 1983, the Edith House Lecture Series brings outstanding female legal scholars and practitioners to Athens. Edith Elizabeth House, a native of Winder, Ga., was one of the first female graduates of the University of Georgia School of Law. She graduated in 1925 and was co-valedictorian of her class. House enjoyed a distinguished career in public service, which spanned more than 30 years.
A conversation with Distinguished Lecturer from Government at Georgetown Law Sally Q. Yates will be the focus of the 36th Edith House Lecture on Friday, March 23, at 3:30 p.m.
Yates, a 1986 graduate of the School of Law, has served in several leadership roles during her career – most recently as acting U.S. attorney general and as deputy attorney general. She also served as a U.S. attorney for the Northern District of Georgia and was the first assistant U.S. attorney and chief of the Fraud and Public Corruption Section of the office.
Yates was the executive articles editor of the Georgia Law Review while in law school. She also earned her undergraduate degree in journalism from UGA in 1992.
Equal Justice Foundation Auction
March 24, 2018 - The Foundry at Graduate Athens, Athens, GA
Equal Justice Foundation is a student-run organization devoted to the promotion of the public interest law.  EJF works to provide stipends for Georgia Law students who have chosen to work in unpaid, public interest positions over the summer.  Public interest law is often not a lucrative field and students who pay the high price of legal education to do this important work need and deserve our financial support. 
Each year, EJF holds an auction to raise money to support these public interest stipends. Previous auctions have included weekend getaways, bar prep courses, concert tickets and professor packages. All proceeds go toward funding fellowships for University of Georgia School of Law students taking unpaid public interest jobs. Join us to enjoy a wonderful evening in support of public interest law!
Free and open to the public.
Rural Healthcare Symposium
April 5, 2018 - 9:00am - 4:00pm - Dean Rusk Hall, Athens, GA
The Rural Healthcare Symposium is a focused policy discussion on the emerging rural healthcare crisis in the United States, emphasizing possible solutions.  As an academic institution in Georgia – a state at the very center of this crisis and debate – the University of Georgia School of Law aims to bring attention to the past, present and future of rural healthcare.
The symposium is free to students and staff across many disciplines, including UGA's schools of law, public health, medicine (UGA/AU Partnership), business and healthcare journalism.  Non-student guests, from healthcare industry insiders to practicing attorneys to public policy experts, are encouraged to attend.
For more information and to register for the Symposium, please visit the following page, bolingandcompany.com/rhs.
116th Sibley Lecture featuring Yale Law School Dean Heather Gerken
April 13, 2018 - 3:30 pm - Hirsch Hall, Athens, GA
Heather Gerken, the dean of Yale Law School, will deliver the 116th Sibley Lecture. Gerken is one of the nation's leading experts on constitutional law and election law. She will speak on the future of the legal profession and what lawyers have to teach the rest of the country.
The Sibley Lecture Series, established in 1964 by the Charles Loridans Foundation of Atlanta in tribute to the late John A. Sibley, is designed to attract outstanding legal scholars of national prominence to the School of Law. Sibley was a 1911 graduate of the law school.
---
Open House for Admitted Students
March 24, 2018 - 1:00-5:30 pm - Hirsch Hall, Athens, GA
The University of Georgia School of Law invites you to attend an Open House for Admitted Students at the law school on Saturday, March 24, 2018. Please join us for this opportunity to meet members of the School of Law Class of 2021 and learn more about the law school.
Registration is now closed. If you would like to attend and did not register through the form, please email Jessica Boston at jboston@uga.edu.
---
Saturday Tours
April 7 and 14, 2018 - 11:30 am - Hirsch Hall, Athens, GA
If you are unable to attend Open House for Admitted Students on Saturday, March 24th, or schedule a visit during the week to the law school, University of Georgia School of Law current students will be available on April 7th and April 14th for Saturday tour sessions. The tours will be approximately 45 minutes in length and will be followed by lunch with the current students.
---
1L Orientation
August 9, 10, and 13, 2018 - Athens, GA
Attendance is required.
More information will be posted soon!
---
Amending Your Application & Address Changes
To amend your application prior to enrollment, please email Brandi Saunders, Operations Manager for the Office of Admissions, at bsaundrs@uga.edu.
***IMPORTANT: The certification statement at the end of the application requires applicants to immediately notify the Executive Director of Law Admissions by emailing the Operations Manager about any changes to responses to the Character & Fitness questions of the application (academic/social discipline, criminal convictions/charges).
Please keep the law admissions office informed of any address changes by emailing Brandi Saunders at bsaundrs@uga.edu.  Absent any instructions from you, we will send all mail to the current address specified on your application.
---
Next Steps
---
Learn More About the School of Law
---
Explore Athens
The Classic City of Athens combines southern charm and great weather with a progressive atmosphere and a rich art, music and intellectual culture.  Visit Athens in person or learn more online.