The Red Clay Conference
Welcome to the Environmental Law Association
ELA Home  |  Staff   |  Red Clay Conference Schedule  |  Calendar  |  Contact Us  |  Registration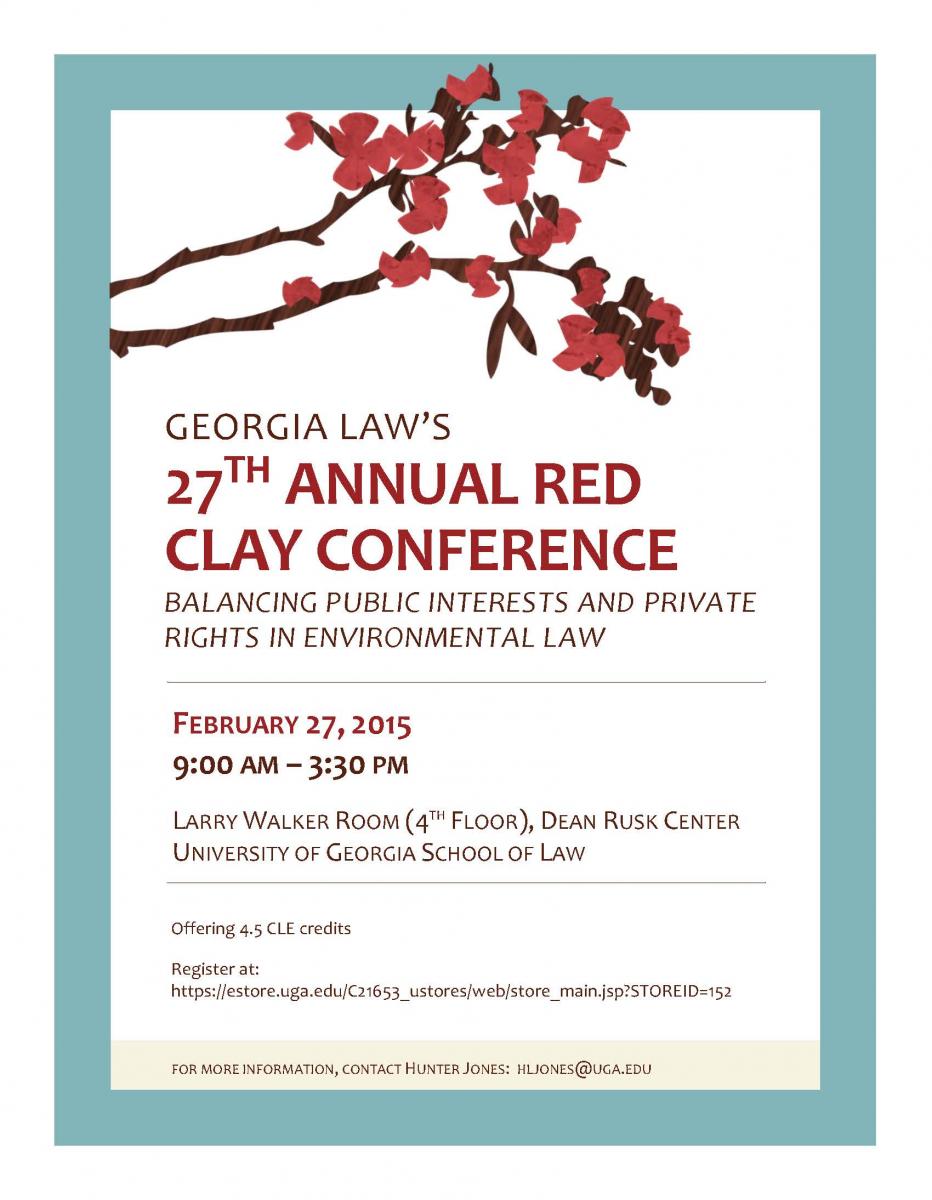 Balancing Public Interests and Private Rights in Environmental Law
The 27th Annual Red Clay Conference will take place in Athens, Georgia at the University of Georgia School of Law in the Walker Room of Dean Rusk Hall from 9:00 a.m. to 3:30 p.m. Friday February 27, 2015.
Directions
Parking is located at the North Campus pay parking deck on S Jackson St.  Signs will be posted to direct attendees from the deck to the Dean Rusk Center.
From Atlanta, take 85 North to 316 E (exit 106).  Take the GA-10 E to exit 7 (College Station Rd).  Turn left onto College Station Rd.  Turn right on East Campus Rd.  Turn left on Baldwin St.  Turn right on Jackson St.  The parking deck will be on your right.  
Registration and Cost
Online registration is available through the registration tab, above. Attendance is free for the UGA community.  Continuing Legal Education credits are available to attorneys ($45 for 4.5 CLE credits).  All other attendees may register for $10 before or on the day of the Conference.  Lunch and refreshments are included in the cost of registration.
Scope and Purpose of the Conference
The Red Clay Conference is an annual environmental law conference that is entirely student-organized by students of the University of Georgia School of Law.  The Conference aims to increase public awareness of environmental issues of regional, national, and international significance through a series of educational presentations and open forum discussions.  It provides CLE (Continuing Legal Education) credits to attorneys registered with the State Bar of Georgia, but also welcomes all other interested groups and members of the public.
Continuing Legal Education
The conference will provide 4.5 CLE credits.
Red Clay Co-Chairs
Executive: Hunter Jones
Ellie Carroll, Amble Johnson, Jonathan Tonge
If you would like to know more about the Red Clay Conference, please do not hesitate to contact us at redclayconference@gmail.com. 
The University of Georgia School of Law is committed to providing reasonable access and accommodations for people with disabilities upon request.  For questions about accessibility or to request accommodations, contact Tricia Hackleman at
tjhlaw@uga.edu
 or 706-542-5167 at least three business days prior to the event.