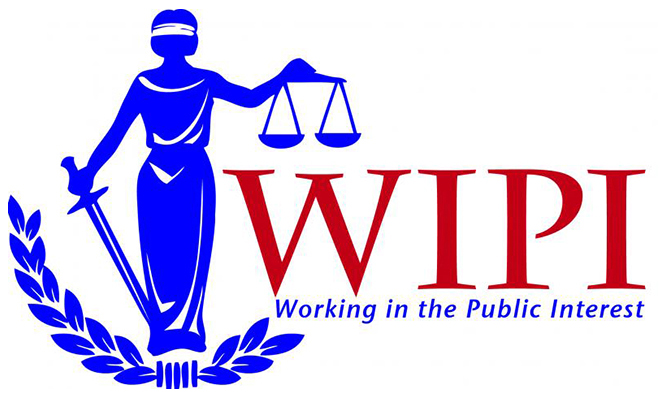 Working in the Public Interest
About
Working in the Public Interest is a student-run conference at the UGA School of Law. Every spring public interest law students bring practitioners from around the world to Athens, Georgia to speak about pressing issues of the day in public interest law. The purpose of WIPI is to create a forum where public interest law students can bring the issues that matter to them to the table. Furthermore, organizers and attendees of the conference are given great networking opportunities with professionals in various fields of public interest law. 
Entirely student organized, WIPI seeks to bring together eminent practitioners in their respective fields, students, and faculty to discuss practical approaches to lawyering that promote social justice and human rights for all. The Conference seeks to highlight dynamic, creative ways to combat social injustice through the vehicle of the law. WIPI is committed to institutionalizing a public interest law conference in the Southeast. We feel the social history, political climate, and economic conditions of the Southeast are unique, and we hope that by providing a forum to address persistent social injustices we may get one step closer to resolving some of the major public interest law issues in the Southeast.
Email us at wipiconference@gmail.com.
Leadership
Advisor:  Associate Professor Alexander W. Scherr
| | | |
| --- | --- | --- |
| Executice Director | R. Larkin Taylor-Parker |   |
| Logistics Director | Ryan Shriver |   |
| Panels Co-Director(s) | Taryn Arbeiter |   |
|   | Deborah Nogueira-Yates |   |
|   | Hannah Williams |   |
| Hospitality Co-Director(s) | Grace Liu |   |
|   | Katie Wroten |   |
|   |   |   |
Conference Information
The 11th Annual Working in the Public Interest Conference (WIPI) will bring together practitioners, students and faculty to discuss equal treatment under the law, improved access to legal representation for the currently underrepresented and practical approaches to public interest lawyering.
Saturday, February 20, 2016
Larry Walker Room, Fourth Floor of Rusk Hall, University of Georgia School of Law, Athens, Georgia
Continuing Legal Education Credits (CLE) Available
This event offers 4 hours of regular CLE credit and 1 hour of Ethics credit for State Bar of Georgia members, for a total of 5 credit hours. To receive CLE credits you must register for the entire Conference.
2016 Conference Schedule
To Be Announced
Panel Descriptions
Probate Issues, Post-­ Obergefell v. Hodges
Since the Supreme Court's decision in Obergefell, numerous questions about probate and administration of other proceedings have been raised. This panel will address the varying ways the Obergefell decision affects the administration of probate, estate planning, adoption proceedings, and other family law matter. This panel seeks to inform conference participants of the effects the Obergefell decision will have on other areas of the law, and help practitioners identify tangible skills they can use in addressing these questions.
Panelists: 
The Honorable Susan Tate; Judge, Athens-Clarke County Probate Court 
Charlie Yovino; Human Resources Professional at PricewaterhouseCoopers 
Denise VanLanduyt; Founder and Attorney at Vanlanduyt Giles 
Lori Surmay; Attorney at the Law Office of Lori M. Surmay 
Panel Moderator: 
Sonja R. West; Associate Professor of Law at the University of Georgia School of Law 
---
Misdemeanor Offense Representation
Defendants to criminal proceedings are entitled to effective representation. However, as funding for public legal assistance agencies dwindles and the caseloads for these agencies expand, defendants facing misdemeanor charges have often been left with inadequate representation. This panel seeks to bring to light the problems that stem from a lack of adequate representation for misdemeanor offenses, and aims to offer guidance to practitioners and students on ways to remedy this problem.
Panelists:
David A. Singleton; Executive Director of the Ohio Justice and Policy Center
Phyllis Mann; Senior Program Associate, Sixth Amendment Organization
Gerry Weber; Senior Staff Counsel at the Southern Center for Human Rights
Panel Moderator:
Alexander W. Scherr; Associate Professor of Law and Director of Civil Clinics at the University of Georgia School of Law
---
Access to Higher Education for Immigrants
Under Georgia law, undocumented immigrants are not permitted to attend the top five public universities in the state and have no access to federal financial aid programs. Freedom University seeks to remedy access to education problems that undocumented immigrants face by providing tuition-free education and college application and scholarship assistance. This panel will provide participants with useful information about the kinds of educational opportunities available, and suggest what kinds of legal advice can be offered to undocumented immigrants who have access to education questions.   
Panelists:
Eunice Cho; Staff Attorney, Immigrant Justice Project at Southern Poverty Law Center
Melissa Johnson; Policy Analyst at Georgia Budget & Policy Institute
Azadeh Shahshahani; Legal & Advocacy Director at Project South
Panel Moderator:
Jason A. Cade; Assistant Professor of Law at the University of Georgia School of Law
History
The WIPI Conference was founded by UGA Law Students in 2005. Kelly James, Rakesh Parekh, Heidi Taylor, and Vanessa Volz teamed up to develop a conference proposal. Dean Rebecca H. White of the UGA School of Law graciously offered to support the endeavor and WIPI was born. The first annual WIPI Conference was held in April of 2006, and former Senator John Edwards served as the inaugural keynote speaker.
Past WIPI Conferences and Panel Research Papers (2015 Panel Research Papers forthcoming)
WIPI Awards
In 2007, the WIPI Executive Board established the Milner S. Ball Lifetime Achievement Award to honor practitioners that have dedicated their careers to public interest work. The award is named for Professor Ball, who founded UGA's Public Interest Practicum and inspired many UGA students to pursue their interests in public interest law.
Recipients
2014 - Stephen Bright, President and Senior Counsel, Southern Center for Human Rights
2012 - Don Keenan, Founder, Keenan's Kids Foundation
2011 - Doug Ammar, Executive Director of Georgia Justice Project
2010 - John Whithead, President and Founder of the Rutherford Institute
2009 - J.L. Chestnut, Civil Rights Advocate 
2008 - Phyllis Holmen, Executive Director, Georgia Legal Services Program
2007 - Prof. Milner S. Ball, Caldwell Professor of Constitutional Law, UGA, & Founder of the UGA Law School Public Interest Practicum
The WIPI Executive board also created the WIPI Student Achievement Award to honor law students who, through their work in public interest, made a significant difference in the lives of the indigent or under-served. Candidates for the award should be current law students, who did not receive compensation or monetary reward for their efforts. Work performed in clinics, internships, and externship for class credit is acceptable. Please send your nominations for both awards to wipiconference@gmail.com.
Recipients
2012 - Touch Thouk, 3L, University of Saint Thomas School of Law
2011 - Emma Hetherington, 3L, University of Georgia School of Law, Co-Founder Public Interest Law Council
2010 - Nikki Thanos, 3L, Loyola Univeristy College of Law in New Orleans Louisiana
2009 - Rebecca Williford, 3L, University of North Carolina, President of Disability Law Association.
2008 - Steve Weyer and Terri Porter, Co-Chairs of EPIC 2008, Inspiration Awards, Emory Law School
2007 - Cliff Williams, 3L, Georgia State University College of Law and Georgia Innocence Project Intern
---
Student organizations are not a part of nor are they agencies of the University of Georgia School of Law or the University of Georgia.  Neither the University of Georgia School of Law nor the University of Georgia direct, supervise, or control these organizations.  Each organization is a separate and independent organization and is responsible for and manages its own activities and affairs. The University of Georgia School of Law and the University of Georgia are not responsible for any of these organizations' contracts, acts or omissions.
The content and opinions expressed in student organization websites linked from this web page do not necessarily reflect the views of nor are they endorsed by the University of Georgia or the University System of Georgia.