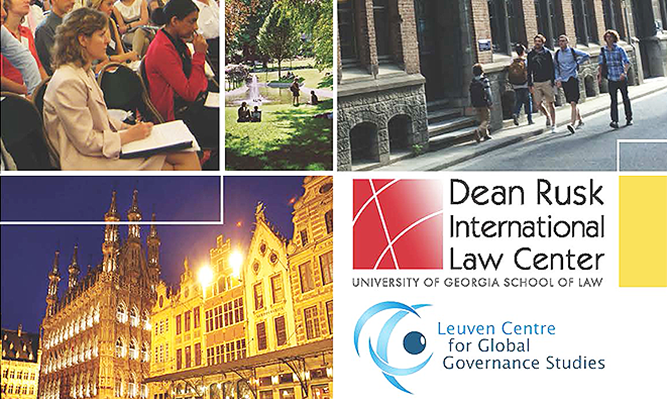 Georgia Law-Leuven Global Governance Summer School, June 2017
The Dean Rusk International Law Center at the University of Georgia School of Law and the Leuven Centre for Global Governance Studies at the University of Leuven are proud to partner in presenting the 2017 Global Governance Summer School. Core events, including an expert conference, will take place June 26-30 in Belgium.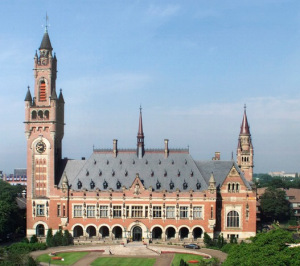 Georgia Law students will join at Leuven a target audience of: advanced students in international law, international relations, international political economy, and international and European studies; and practitioners and policy experts who wish to update their knowledge on developments in global governance and international law. Registration for non-Georgia Law students is available here; Georgia Law students may seek further information at doty@uga.edu. 
Georgia Law students at The Hague
The European journey will begin for Georgia Law students with three days at The Hague in the Netherlands, site of many international legal institutions. Plans include attendance at the trial of Prosecutor v. Ongwen at the International Criminal Court, touring the Peace Palace (right) and a briefing at the International Court of Justice, and an audience with a judge and legal advisers at the Iran-U.S. Claims Tribunal. Cultural excursions also will be offered.
Global Governance Summer School, Leuven, Belgium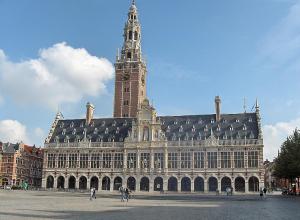 Georgia Law students then will travel to Belgium to join other Global Governance Summer School participants at the beautiful campus of the University of Leuven (left), one of Europe's premier research institutions. The program is as follows:
June 26-28 Classroom seminars on issues of international law and global governance, including global economic and trade governance and global human rights, rule of law, and security governance. Instructors include the Summer School's co-directors, Georgia Law Associate Dean Diane Marie Amann and Leuven Professor Jan Wouters, along with others from both universities: from Georgia Law, Professor Harlan Cohen and Kathleen A. Doty, our Center's Director for Global Practice Preparation; from Leuven, Dean Bart Kerremans, Professors Horst Fischer, Dominik Steiger, Geert Van Calster, Drs. Matthieu Burnay and Nicolas Hachez, and Senior Researcher Philip De Man.
June 29 International Law and Global Governance in a Turbulent World, an expert conference featuring three panels composed of scholars and practitioners from around the world: "Global Governance of Human Rights. How to enforce universal values in contested world?" "Global Governance of Democracy and Rule of Law in international perspective." and "Global Economic and Trade Governance in Protectionist Times. Will we see the emergence of trade wars in the coming years?"
June 30 Professional development trip in Brussels, where students will visit the headquarters of the North Atlantic Treaty Organization and the office of the global law firm Sidley Austin LLP.
Diploma
Students who complete the School of Global Governance will be awarded a diploma; however, no institutional or academic credit is available for participation.
Contact
For more information, contact Kathleen A. Doty, Director of Global Practice Preparation at the Dean Rusk International Law Center, University of Georgia School of Law, at doty@uga.edu or (706) 542-9739.