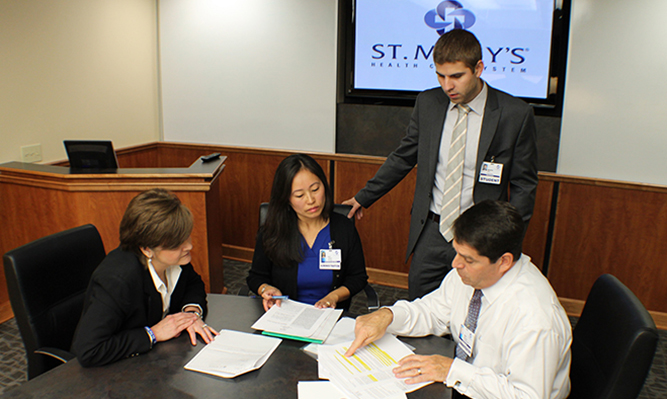 Civil Programs
Get experience in a range of civil matters through Georgia Law's civil programs. For more information, please visit our FAQ page. 
Appellate Litigation Clinic
The year-long Appellate Litigation Clinic is designed to teach students to be appellate litigators. The clinic essentially operates as a small firm and will accept clients with cases before both federal circuit courts of appeals and the Board of Immigration Appeals. Students work in teams of two or three to review the record of the case, identify the issues that should be raised in the appeal, draft the briefs (both opening brief and reply brief), and may do the oral argument if permitted and if oral argument is scheduled.
Atlanta Semester in Practice
Second- and third-year students can receive full-time, practical experience through placements in the judicial, government, corporate and nonprofit arenas. Potential placements include:  the Office of the Governor, the Office of the Attorney General, the Georgia Supreme Court and the House Democratic Caucus, as well as a number of other government, nonprofit and corporate locations.
Business Law Clinic
The Business Law Clinic offers students an opportunity to develop lawyering skills in a professional, interactive, live-client environment. Clients include entrepreneurs, small business owners and nonprofit organizations that cannot otherwise afford legal services. Supervised law students provide services related to such matters as entity formation, corporate governance, employment and contracts. Students learn how to interview, counsel, draft and negotiate as well as develop problem-solving, analytical and editorial skills in the context of client projects and reality-grounded class work. In addition to working 8-10 hours per week on supervised client projects, law students attend a two-hour weekly seminar that covers topics relevant to the representation of entrepreneurs, small businesses and nonprofit organizations. The class is limited to eight second- and third-year students.
Civil Externships
Explore litigation and transactional law working with attorneys and judges as part of the Civil Externship.  In this program, students are placed in judicial, governmental and private nonprofit positions. Students learn the fundamentals of lawyering and practical judgment by watching skilled lawyers and by practicing these skills under supervision.
Community Health Law Partnership
Community Health Law Partnership (HeLP Clinic) is an innovative approach to addressing the social determinants of health for indigent individuals. Law students this clinic will partner with health care professionals to tackle a variety of legal needs that impact patients, including immigration, disability rights, benefits, and family law. Working under the supervision of Professor Jason Cade, students will have direct responsibility for all aspects of client representation in cases undertaken by the clinic, including the opportunity to interview and advise potential clients, to conduct research and draft legal documents, to advocate in court proceedings and administrative hearings, and to foster inter-professional approaches to holistic problem solving. From time to time, students may also have the opportunity to develop training materials for medical providers, legal advocates, or patients, and engage in related policy work. The weekly seminar component of theclinic provides skills training and substantive instruction in the clinic's primary practice areas. The seminar also includes clinical "case rounds" designed to reinforce collaborative problem solving and explore real-world professional responsibility issues. This is a year-long (two semester) clinic and is awarded 4 credits each semester.
Corporate Counsel Externship
Explore the practice of law from the perspective of an in-house counsel.  This course will benefit not only students interested in an in-house career but also those who will work in law firms and deal with in-house counsel as their primary client contact.  Students will be placed with a corporate legal department and will attend a weekly seminar where they will develop skill sets required in an in-house setting, such as interviewing, counseling, negotiation, legal analysis, problem-solving, and drafting.  Organizations currently participating in the program include: Acuity Brands, American Cancer Society, Axiall, BlueLinx, Chick-fil-A, Coca-Cola, Cox Communications, Delta, Gwinnett Medical Center, Imerys, InterContinental Hotels Group, McKesson, NCR, RaceTrac, Rollins, and St. Mary's Hospital, among others. The course was created in conjunction with Georgia Law's Business Law and Ethics program.
Environmental Practicum
Georgia Law offers an experiential learning program for students interested in environmental preservation: the Environmental Practicum. Students in the Environmental Practicum work to improve water quality and protect and restore native aquatic species in targeted watersheds and the Upper Etowah River Basin.
Family Violence Clinic
Prepare for a career in family law with the Family Violence Clinic. Students in this clinic help to protect victims of domestic violence. Clinic work includes interviewing, case preparation, counseling and advocacy.
Mediation Practicum
Become a certified Georgia mediator through the Mediation Practicum. Students in this program mediate cases in Small Claims Court to meet requirements for certification under standards set by the Georgia Office of Dispute Resolution.
Public Interest Practicum 
Take a look at how law can meet the needs of disadvantaged community members through the Public Interest Practicum. Students in this program work with homeless and incarcerated individuals and local service institutions to coordinate resources and information on housing, child custody, debt, benefits and health care.
Wilbanks Child Endangerment and Sexual Exploitation Clinic
The Wilbanks Child Endangerment and Sexual Exploitation (CEASE) Clinic is the first of its kind in the nation. It is a law school clinic that is dedicated exclusively to the representation of survivors of child sexual abuse. Participating law students will be trained to represent survivors of child sexual assault or exploitation in tort suits filed against their abusers. Students will be exposed to litigation skills, laws governing child sexual abuse cases and related legislation making these lawsuits possible.