Class Profile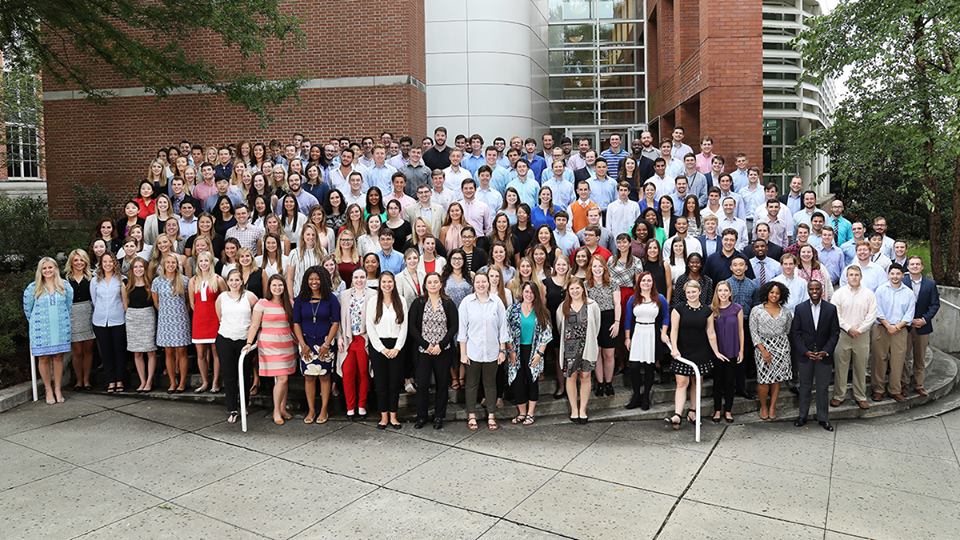 Class of 2020 At a Glance

Total Enrollment

189

Median LSAT Score
162
Median GPA
3.71
Minority Enrollment

21%

Female / Male Enrollment
47% / 53%
Schools Represented
62
States Represented
24
Languages Spoken
15
All statistics as 8/10/17. Learn more about the incoming students at http://law.uga.edu/news/49099.
---
University of Georgia School of Law Class of 2020
Members of the Class of 2020 include: service members, police officers, court clerks and paralegals; Eagle Scouts and Girl Scouts; student mentors; camp counselors; members of mock trial team, Model UN, debate team, and student government presidents; band members; musicians; scholarship recipients; Dean's and President's List Student; Congressional interns; bank tellers; tutors; teachers and teacher's assistants; legislative assistants; financial advisors; lifeguards; vocalists; coaches; writers; a batboy; website developers; researchers; campaign staffers; accountants; engineers; chefs; tour guides; a model; photographers; Miss Georgia 2015; clergy; a certified cheese professional; a certified tree keeper; actors; ballroom dancers; fraternity and sorority presidents; and athletes in basketball, baseball, football, soccer, rugby, track, tennis, lacrosse, cheerleading, golf, power lifting, fishing, field hockey and swimming.
Members of the Class of 2020 worked for: district attorneys, private law firms, public defenders, municipal courts, and Attorneys General; national, state, and local political campaigns; family businesses; non-profits; U.S. Army; National Guard; police departments; Teach for America; restaurants; banks; MLB teams; The White House; and for corporations including FedEx, Coca-Cola, Chick-fil-a, UPS, Starbucks, McDonald's.
Members of the Class of 2020 volunteered for: UGA Miracle, Ronald McDonald House, soup kitchens and food banks, local radio stations, local churches, Peace Corps, Habitat for Humanity, LGBT groups, American Red Cross, animal shelters, Boys and Girls clubs, Big Brothers Big Sisters, hospitals, children's groups, UGA HEROs, Special Olympics, Human Societies, St. Jude's, YMCA, Girl Scouts, Boy Scouts, AutismUGA, Relay for Life, CASA, Junior Achievement, Shop with a Bulldawg, sexual assault awareness groups, mental health awareness groups, and Make-A-Wish.
Members of the Class of 2020 majored in: Accounting, Art History, Art/Design, Bio/Biomedical, Biology, Business Administration, Business Management, Business/Commerce, Chemical Engineerings, Classics, Communication, Criminal Justice, Drama/Theatre Arts, Economics, Electrical Engineering, English, Environmental Sciences, Finance, French, Geology/Earth Sciences, German, History, Human Resource Management, Humanities, Industrial Engineering, Insurance and Risk Management, Interdisciplinary Studies, International Relations, International Studies, Journalism, Legal Studies, Liberal Arts, Linguistics, Marketing, Music, Natural Sciences, Philosophy, Political Science, Pre-Law, Psychology, Real-Estate, Social Work, Sociology, Spanish, and Women's Studies.
Locations Where Members of the Class of 2020 lived or studied in: Georgia, Tennessee, Virginia, South Carolina, North Carolina, Louisiana, California, New York, New Jersey, Texas, Illinois, Washington D.C., Alabama, Ohio, Florida, Pennsylvania, Massachusetts, Connecticut, West Virginia, Michigan, Minnesota, New Hampshire, Maryland, Mississippi, Arizona, Arkansas, Washington, Wyoming, Nevada, Indiana, Wisconsin, and South Dakota. International: Scotland, England, Germany, Italy, France, The Netherlands, Vietnam, South Korea, Puerto Rico, Belgium, Japan, Argentina, Australia, and New Zealand.
Languages Spoken by Members of the Class of 2020 include: French, Spanish, Mandarin, Korean, Latin, German, American Sign Language, Arabic, Vietnamese, Urdu, Gujarati, Japanese, Portuguese, and Tulu