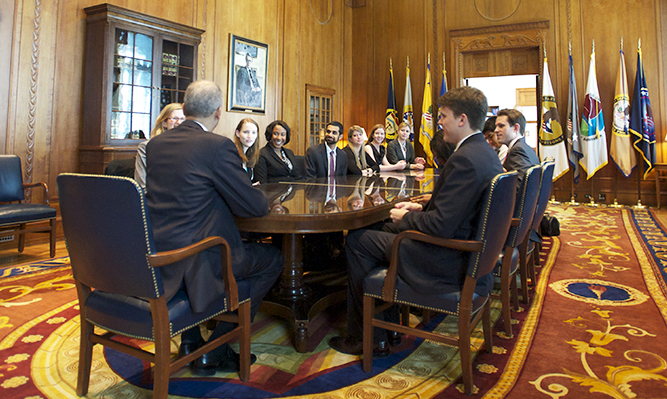 D.C. Semester In Practice Program
Students earn 13 credits while in residence in Washington, D.C.:  10 credits are earned from the externship and clinical seminar and 3 credits are earned from a non-clinical course.  Students extern 448 hours over the semester and attend class twice a week.  
Placements
Placements include a wide range of offerings, including federal, state and local government agencies, private non-profits and judicial chambers.  Because students receive academic credit, they may not receive monetary compensation.  Placements provide an opportunity for substantive legal work under a lawyer's supervision with regular feedback and mentorship.  
Coursework
Classes are held at the University of California Washington Center near Dupont Circle at 1608 Rhode Island, Ave., NW, Washington, D.C., 20036.  
The Role of the Executive Branch:  The past decade has put the law of the executive branch at the center of American life.  The goal of this course is to discuss these recent controversies in their current legal context, but also in a larger doctrinal, historical and political context.  These discussions will span constitutional and statutory law, and the law within and across the branches of government and include domestic and foreign policy.  Topics to be addressed in domestic policy include the President's power to appoint officials and implement statutes, the power of the Office of the Legal Counsel, and the power of Congress to investigate the executive branch.  Topics to be addressed in foreign policy include Guantanamo Bay, drones, and current military activities in Iraq and Syria.  This course is 3 credits and is graded.

Professor David Fontana, George Washington School of Law

D.C. Externship Clinic:  A 10-credit course, consisting of a 2-hour weekly seminar focusing on professionalism, career development and the various roles of Washington lawyers and 8 credits for work at the placement.  Students receive a grade for one-half of these credits and receive a pass-fail designation for the other half.
Spring 2016 Application Process
Applications are due by email to Jessica Heywood September 11, 2015 and include the application form, résumé, unofficial transcript and written statement of interest.
Accepted students are matched with possible placements based on demonstrated interest and other qualifications. 
Housing
Students are responsible to find their own housing.
Financial Aid
Increased financial aid is available for those participating in the D.C. Semester in Practice program.
Contact
Please contact Jessica Heywood for additional information:
jheywood@uga.edu
or 202.494.0035.