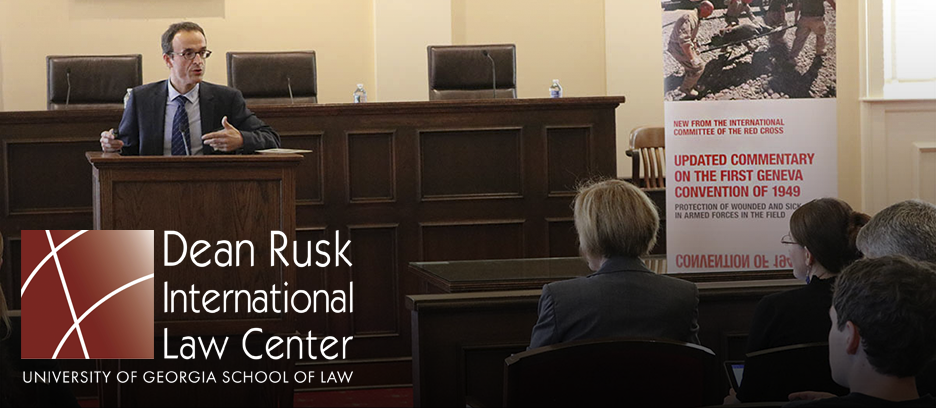 2017-2018 events
For nearly 40 years, the Dean Rusk International Law Center at the University of Georgia School of Law has spearheaded an array of events designed to promote discussion and analysis of issues related to international, comparative, transnational, and foreign affairs law and policy.
Events in the 2016-2017 and the 2015-2016 academic years included talks on issues of foreign affairs and international law by: Pulitzer Prizewinning author Viet Thanh Nguyen; former U.S. Senator Saxby Chambliss, now the law school's Sanders Political Leadership Scholar; Shane Stephens, Consul General of Ireland in Atlanta; Professor Javier Dondé Matute (LLM 1998)  of the National Institute of Criminal Sciences, Mexico City; Navi Pillay, former U.N. High Commissioner for Human Rights, Professor Gabrielle Kauffman-Kohler, a Switzerland-based international arbitrator; Derek Shearer, former U.S. Ambassador to Finland; and Ertharin Cousin (JD 1982), then the Executive Director of the U.N. World Food Programme. Also featured were IntLawGrrls 10th Birthday Conference and conferences on "Humanity's Common Heritage: The 2016 ICRC Commentary on fthe First Geneva Convention," keynoted by ICRC Legal Advisor Jean-Marie Henckaerts (LLM 1990), and on "Children and International Criminal Justice" keynoted by International Criminal Court Prosecutor Fatou Bensouda, with proceedings published in our Georgia Journal of International & Comparative Law. 
Events scheduled during the 2017-2018 academic year will appear soon.