Government & Public Interest Strategies & Deadlines
Date:
Monday, August 26, 2019 -

12:00pm

to

12:50pm
Application deadlines for summer and post-grad jobs in government and public interest begin early - starting in September.  If you are interested in working with
- a government (federal, state, local) agency,
- or with legal aid, public defender, prosecutor,
- or with an advocacy group,
- or any other public service employer,
be sure to attend this session to anticipate and plan your successful search strategy.
Co-sponsored by the Public Interest Law Council and the Career Development Office.
Please RSVP in Symplicity Professional Development Events, or via email to profdev@uga.edu.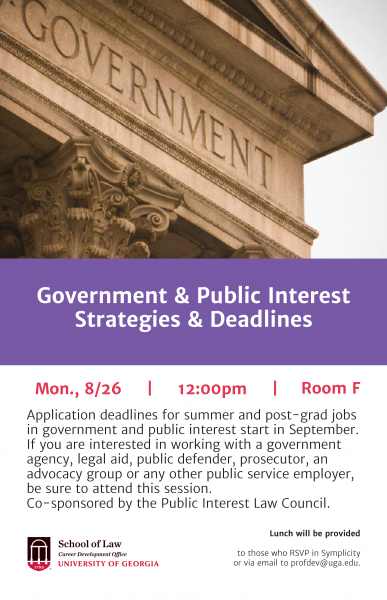 Contact Name:
Beth Shackleford, Director of Student Professional Development