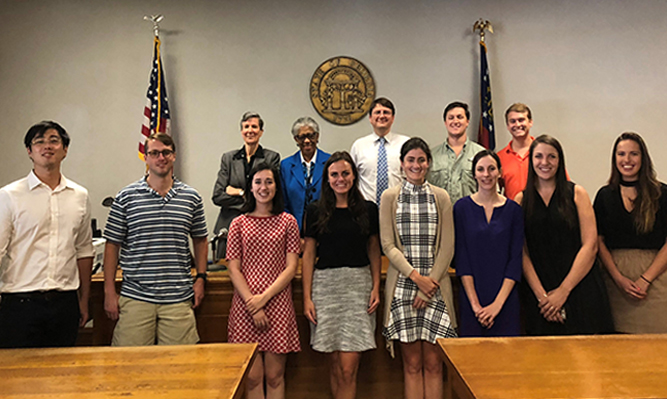 Mediation Clinic
Mediation II
What is Mediation II?
Mediation II is a mediation clinic operating in conjunction with the 10th District Alternative Dispute Resolution Program and the Athens-Clarke County Magistrate Court.
Are there prerequisites?
Mediation II students must successfully complete of Mediation I and register with the GA Office of Dispute Resolution. There are fees associated with registration with the state, and these costs must be paid by the student to the Georgia Office of Dispute Resolution.
What are the course requirements?
Students in Mediation II are required to attend a two hour seminar weekly and be available to mediate on-site for a minimum of 4 hours each week, preferably scheduled in 2 two hour blocks that correlate with the Court's calendar. Other course requirements include periodic journals, on-line forum discussions, participation in class "case rounds" and an in-depth 15 page case assessment. Mediation II offers 3 credit hours that do count as clinical credit
How do I apply for Mediation II?
As noted, Mediation II is only available to students who have successfully completed Mediation I and/or have registered with the Georgia Office of Dispute Resolution to mediate and received approval from the instructor. Up to 8 students may enroll per semester. Mediation II is available Spring, Summer and Fall to eligible students.