Georgia Journalism and Access Project Attorney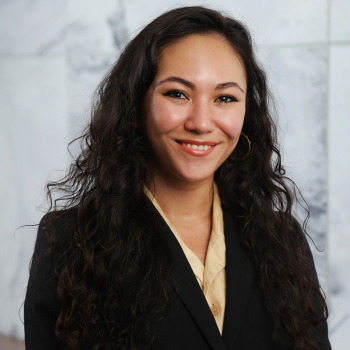 University of Georgia
School of Law
Athens, GA 30602
United States
B.A., University of California, Santa Cruz
J.D., University of California, Berkeley
Biographical Information
Samantha C. Hamilton is the Georgia Journalism and Access Project Attorney in the University of Georgia School of Law's First Amendment Clinic.
Hamilton was the 2022-23 First Amendment Fellow in The New York Times Legal Department, where she litigated Freedom of Information Act cases on behalf of The New York Times reporters and counseled them on state public records laws around the country. Her FOIA matters included lawsuits for records related to alleged war crimes by the U.S. military in Afghanistan and for records related to the welfare of unaccompanied migrant children. She also worked on defamation lawsuits brought against The Times, advocated for access to judicial records filed under seal, and was part of a team that strategized how to protect The Times' intellectual property from legal issues posed by generative artificial intelligence.
She was a Justice Fellow at the civil rights law firm Loevy & Loevy, where she litigated wrongful conviction and prisoners' rights lawsuits in federal court in Georgia, Oklahoma and Illinois. Prior to that, she was a Legal Fellow in the UGA School of Law's First Amendment Clinic. At that time, she worked on First Amendment federal litigation on behalf of a photojournalist arrested at a protest as well as on behalf of women in custody of U.S. Immigration and Customs Enforcement who were retaliated against for speaking out about medical abuse. She also counseled reporters and community members throughout Georgia on the Open Records Act and Open Meetings Act.
Hamilton graduated from the University of California Berkeley School of Law in 2020 with certificates in Public Interest & Social Justice and Law & Technology. While in law school, she worked as a student attorney in the Samuelson Law, Technology & Public Policy Clinic as well as the East Bay Community Law Center's Education Defense and Justice for Youth Clinic. She externed with the American Civil Liberties Union's Speech, Privacy and Technology Project, the Electronic Frontier Foundation and the First Amendment Project. Hamilton earned her bachelor's degree from the University of California Santa Cruz in 2016 and graduated magna cum laude with highest honors in the economics major.
She is a member of the Georgia Bar and is admitted in the following jurisdictions:
Georgia State Bar
U.S. District Court for the Northern District of Georgia
U.S. District Court for the Central District of Illinois
United States Court of Appeals for the Second Circuit
United States Court of Appeals for the Eleventh Circuit