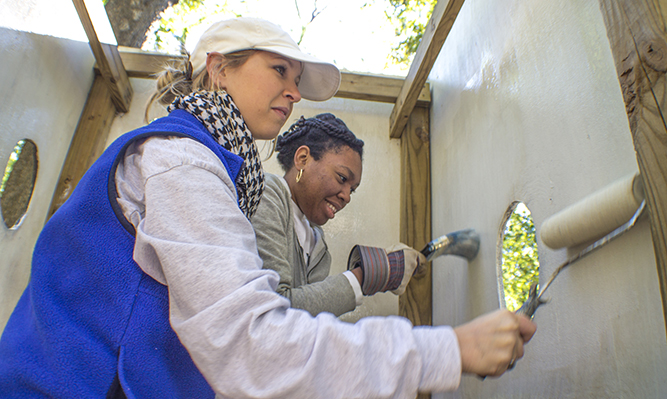 Public Interest Opportunities
In addition to the hands-on clinical offerings, law students give back to the local community through volunteer efforts coordinated by student organizations. More than 30 active student organizations arrange food, clothing, and blood drives; provide mentor programs in local schools, present law-related educational programs, and conduct highway cleanups. 
 
 

Public Interest Law Conference 

Each spring, students organize and host the WIPI Conference. This event brings together eminent practitioners, faculty and students to explore practical approaches to lawyering that can best serve the underpriviledged. Past topics have included immigration, health care, homelessness, education and indigent defense. 

 

 
 

EJF is dedicated to raising money to support University of Georgia School of Law students who work in unpaid public interest internships during the summer. EJF hosts an annual auction as one of the many events that help support Georiga Law's public interest students. Past fellowship recipients have served in organizations such as the American Civil Liberties Union of Georgia, the DeKalb County Child Advocacy Center, the U.S. Environmental Protection Agency and the U.S. Humane Society.

 

 
 

This student group organizes educational, social, career, philanthropic and service programs during the year to bring attention to the wide-renging gield of public interest law and to help support students considering a career in this area. Specific efforts include hosting community service days each semester. 
---
Related Links: