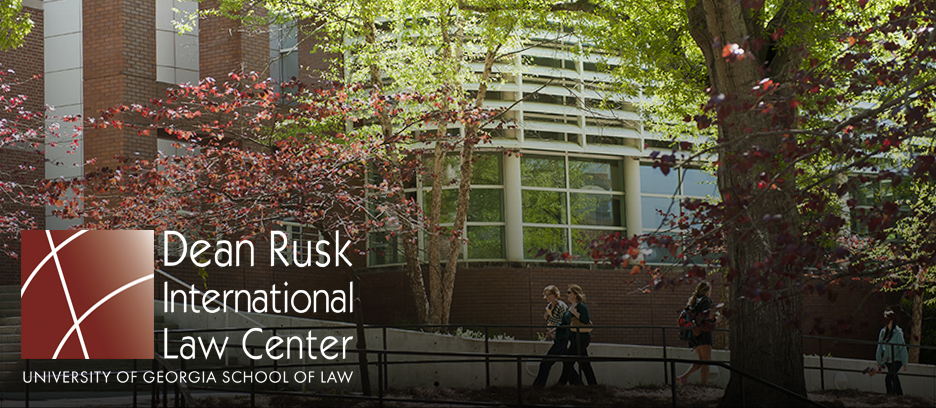 Each year the Dean Rusk International Law Center at the University of Georgia School of Law hosts visiting researchers from across the globe. These visitors stay at Georgia Law for brief or extended periods in order to work with faculty, engage with students through mini-courses and less formal presentations, and take advantage of our Alexander Campbell King Law Library as well as other University of Georgia libraries, including the Richard B. Russell Library for Political Research and Studies.
2021-2022 Visitors
Dr. Brianne McGonigle Leyh

Professor McGonigle Leyh is an Associate Professor at Utrecht University's School of Law in the Netherlands. She specializes in human rights law and global justice, with a  focus on victims' rights, international criminal law, transitional justice, social justice, and the documentation of serious crimes. While at the Dean Rusk International Law Center, sponsored by Prof. Diane Marie Amann, she performed research related to transnational networks of cooperation in international criminal law, examining legal developments at the international, state, and civil society levels. At Utrecht University, Brianne is a member of the Netherlands Institute of Human Rights (SIM), the Montaigne Centre for Rule of Law and Administration of Justice, and co-lead of the interdisciplinary research platform Contesting Governance. She is also an executive editor of the Netherlands Quarterly of Human Rights and co-ordinates the education program of the Utrecht Centre for Global Challenges. In addition to her academic work, she is a Senior Peace Fellow with the Public International Law & Policy Group (PILPG) and sits on the advisory boards of the Netherlands Helsinki Committee and Pro Bono Connect. In 2011 she obtained her Ph.D. from Utrecht University where she wrote her award-winning dissertation on victim participation in international criminal proceedings.
Natalia Pires de Vasconcelos

Professor Vasconcelos is an assistant professor of law at Insper Sao Paulo, Brazil, and she researches and writes about social and economic rights in Latin America, with a focus on the right to health and health litigation. While at the Dean Rusk International Law Center, sponsored by Charles H. Kirbo Professor in the School of Law and Associate Provost for Faculty Affairs Elizabeth Weeks, she conducted research on the right to health of people in prisons in Latin America during COVID-19. She holds a Ph.D. in Public Law from the University of Sao Paulo and an LL.M. from Yale Law School. She is currently a senior research fellow at the Solomon Center for Health Law and Policy at Yale Law School and one of the founding members of the Brazilian think-tank LAUT - Center for the Analysis of Liberty and Authoritarianism.
A list of visiting researchers and scholars over the years is here.
How to apply
Our Guidelines for Visiting Researchers, providing details on how to apply to become a visiting researcher at the University of Georgia School of Law, is here.