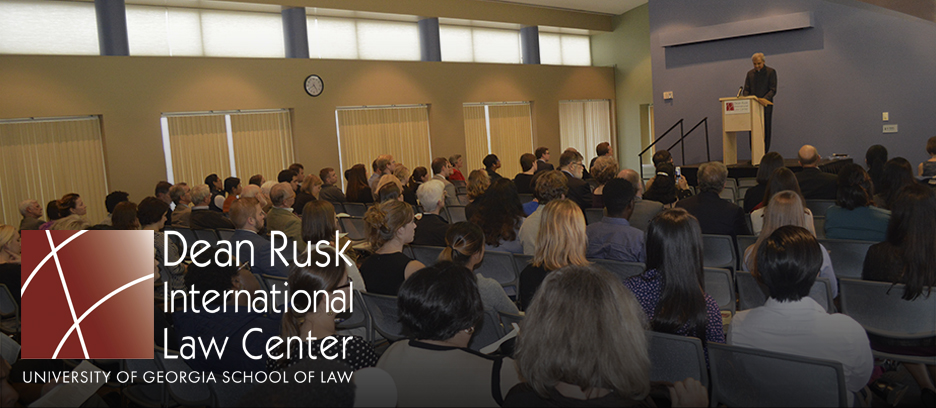 Enthusiastic support from LL.M. graduates
Our more than 500 LL.M. graduates have earned success on every continent in the world, yet many continue to maintain close ties to their American alma mater. They formed an independent LL.M. Alumni Association, which meets annually around the world (Moscow, Russia was the 2019 venue).
Part of a network that exceeds 10,500 J.D., LL.M., and M.S.L. alumni and alumnae, our LL.M. graduates give back in many ways. Some return to meet with students and give presentations, while others help Georgia Law students who venture overseas. Many stay in touch, offering enthusiastic statements about their year in Athens:
"The experience, exposure, knowledge and professional skills that Georgia Law imparted opened up new vistas and made the many academic, professional and even personal pursuits possible and successful. I would do it again if I were once again young."
Dr. Kannan Rajarathinam (LL.M. 1988), Deputy Head of Office, U.N. Assistance Mission in Somalia at UNSOM, Beledweyne, Somalia
"The welcome extended by the UGA family has made it possible for literally hundreds of international lawyers to become very successful in their chosen fields around the world and, at least in our case, also to live the American Dream!"
Shiyami M. Siva Subramaniam (LL.M. 1989) & Siva Subramaniam (LL.M. 1988), Partner, PricewaterhouseCoopers LLP, New York City
"Learning from the outstanding professors, attending the classes with J.D. students, and utilizing the comprehensive resources of the UGA Law Library enabled me to deepen my understanding of the U.S. legal system in the fastest way possible. It was amazing that whenever I encountered a problem, there was always someone available to help, someone who knew the potential barriers that an international student would face in adjusting to the new educational system. I will be proud for the rest of my life that I am a member of the Georgia Law family."
 Hamed Moradi Roodposhti (LL.M. 2017, J.D. Candidate 2020), former Legal Assistant, The Cronfel Firm, Austin, TX
"The LL.M. program at UGA provides a unique opportunity for foreign legal professionals to understand law practice in the U.S. Because of its limited number of LL.M. students, the program allows them to have classes together with J.D. students, giving a real perspective on the American legal system."
Honorable Felipe Forte Cobo (LL.M. 2013), Judge and Professor at the School of Magistracy, State of Paraná, Brazil
"The flexibility of the LL.M. program at the University of Georgia School of Law enabled me to select courses of interest and relevance in preparation for my career as an in-house commercial law attorney."
Bolanle Meshida (LL.M. 2004), Legal Adviser, FSDH Merchant Bank, Lagos, Nigeria
"Very honorable and highly reputable professors were able to break down the most complex legal issues and always made sure to point out the practical relevance. Studying at UGA School of Law prepared me thoroughly for my legal career."
Andreas Kuntzsch (LL.M. 2010), Employee Relations Advisor, DHL, Schkeuditz, Germany
"I grew personally and academically in a stimulating environment. Strong mentorship from senior law students led me throughout the academic pursuit, all the way to my commencement."
Yili Zhao (LLM 2015), Regional ABC Associate, Standard Chartered Bank, Shanghai, China
​
"Attending the LL.M. program at the University of Georgia School of Law allowed me to choose classes tailored to my interests from among all the exciting courses offered, and to benefit from an ideal study environment and some of the best professors I have ever met. Not only did it make me learn American Law, of course, but I also learned a lot about general legal practice and acquired a capacity to work in different legal environments which benefits me greatly in my legal career."
Alexandre Carteret (LL.M. 2013), Lawyer, Bolze Associés, Paris, France​
​
"The LLM academic year at the University of Georgia expands horizons in every respect: not only linguistically and technically do post-graduate students receive highly qualified training, but also the intercultural exchange with the students from other countries allows them to gain experiences, which remain unforgettable. The intensive support of the professors at the School of Law and professional mentoring by the University make the academic year unique and unforgettable. Last, but not least, Athens boasts a pleasant and distinctive flair as a cultural melting pot of the American music scene coupled with the beautiful surroundings of the American South.
Dr. Wolfgang Eichele (LL.M. 2000), Chief Executive Officer, German National Association of Insurance Intermediaries (BVK), Bonn, Germany