In Memory of J. Ralph Beaird
 

September 27, 1925 – August 14, 2014

Georgia Law regrets to announce the passing of Dean Emeritus J. Ralph Beaird, who served as dean of the law school for a total of 13 years and officially served on the faculty for more than 20 years, although he taught at the law school for approximately four decades. He passed away on August 14 at the age of 88. He is survived by daughters Carol Beaird Welsh and Becky Beaird Scarboro, sons-in-law Jack Welsh and Leonard Scarboro, three granddaughters and two great-grandchildren.

Please send your fond memories and condolences via e-mail to: hmurphy@uga.edu .

We will post selected e-mails to this Web page so all can share in the memory of this revered leader, scholar, teacher and mentor.
---
Remembrances of Dean J. Ralph Beaird:
"Dean Beaird gave so much of his own life for the betterment of the University and our School of Law. I certainly witnessed first-hand his devotion to the Law School as a student and later as a moot court advisor and teacher. What I will remember most about Dean Beaird's extraordinary life was his demand for excellence. He set the bar very high, and he expected others to follow his wonderful example of service to the University and Law School."
- UGA President Jere W. Morehead (J.D.'80)
---
"When I was considering law school, Dean Beaird graciously talked with me at length in his office and really opened my eyes to the many ways a lawyer can serve society. This helped me finalize my decision to go to law school and to Georgia Law in particular. Through the years since law school, he kept up with me and always offered encouragement. I am forever grateful to him."
 
- Greg Sowell (J.D.'83), UGA Senior Director of Law School Advancement
---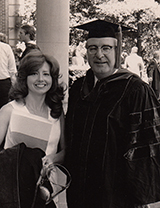 "Among Ralph Beaird's collection of stories that he loves to tell is the one about hiring me as his administrative assistant in 1972. I was so young, so naïve, so awkward and totally inexperienced, but he saw potential. And for that I am grateful beyond measure. 
Here is a brief summary of our meeting:  A year out of college, and working as a university information staff writer in Atlanta, I attended a meeting of the UGA Young Alumni Council in Athens.  Our group had lunch at the home of the University president, Fred C. Davison.  Ralph and Jeanne Beaird attended the luncheon as well. I stood behind this gentleman in the buffet line and, turning around to chatter, almost bumped my plate of salad right into the back of his well-tailored suit.
Ralph turned around and introduced himself to a red-faced and sheepish 23-year old and politely asked what I did as an occupation. He then mused that the UGA Law School "could use a writer" and invited me to interview the next week.  He subsequently took a great risk in hiring a non-lawyer, this untested youngster. 
Ralph Beaird knew when and how to take risks for the benefit of the Law School and for the University of Georgia. He had a great vision for the future of the Law School, and he knew how to go about expanding its resources and its cadre of talented faculty.  In turn, these advances attracted gifted students who graduated with the confidence that comes with a first-class legal education. Many went forward to pursue the kind of leadership they saw in Ralph Beaird:  service within the legal profession and beyond through community and public service.
Back to my (Ralph's) story: I did not remain as a naïve, awkward twenty-something.  Dean Beaird left my job description up to me to define, but he found things to fit into it:  placement and career planning, alumni programs and fund development, publications, and occasional special events planning. This last one was an understatement.  We were like a Broadway stage production with all the ceremonies and commemorations and receptions for visiting distinguished lecturers.  For the Law Day celebration each May 1, for the Sibley Lecture series, and for seminars at the Dean Rusk Center, Ralph invited Supreme Court justices, presidential cabinet officers, governors, senators, presidential nominees, and ambassadors. And they accepted!  Inevitably, these contacts and connections led to networks of opportunities for the students (clerkships, staff attorney positions);  to enhanced state resources (law library annex, Rusk Center) and to foundations and other grant funding entities. Dean Beaird knew what he was doing, and no one worked harder to make it happen. 
If anyone remembers the student-sponsored "Libel Parties" of the 1970s and 1980s, you will recall the wonderful and witty parodies of the portrait dedication ceremonies.  The portrait collection, which lined the hallways outside the classrooms, displayed UGA law grads who had served as governor, senator, Congressional representative, justice, or named partners in Georgia's leading law firms. It was an impressive roster.
The individual who is at the top of any and all rosters of distinguished service, in my estimation, is the man who hired me and who was my mentor and my beloved friend.  What a gift to carry this friendship forward for 42 years.  God bless you, Ralph Beaird."
 - Dr. Gwen Yawn Wood, Associate Professor Emeritus, Department of Political Science, Georgia Regents University
---
"Our relationship cannot be described in words.  I will always love you, Dean Beaird.  May you now enjoy all of the egg salad sandwiches and banana pudding you wish to consume."
 - Lesley Troope (J.D.'90)
---
"Looking back to 1985/86, when I passed an LL.M. program at UGA Law School, I still remember very well the open and friendly way in which Dean Beaird welcomed the mostly foreign students of this program. He gave us this warm and motivating "You can make it"-feeling despite the competitive and challenging atmosphere surrounding all U.S. American Law Schools from a European perspective.
Even after almost 30 years, I do remember the fact that he was so pleased with the correct functioning of the clock in his brand new car, criticising - between the lines - that all of his former cars had defective clocks. The new car might have been Japanese - but I am no longer sure about that.
And he loved to play with his bunch of keys. By that, he appeared to be even more relaxed and more "grand-daddy-like" to us LL.M. candidates.
Please be assured of my fondest memories and my deep expression of condolescences!"
- Dr. Peter Schäfer (LL.M.'86), Professor of Law at Hof University of Applied Sciences, Germany