Business Cards
Business Cards
Business cards are useful networking tools.  They are an easy and effective way to provide your contact information to people you meet.
Format:
Most business cards in the legal profession are quite plain.  You should not include graphics or your photo.  They are a standard size of 3.5" x 2" and typically printed on white or ivory paper with blue or black ink.
Consider that you likely need to include only your name, expected graduation year, phone number and email.  Most people will contact you by phone or email, not snail mail.  So including your mailing address may make your cards obsolete if you move.
The following card is an excellent example of formatting: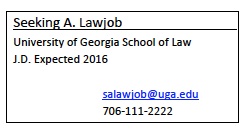 Unless you order cards through the University as described below, you are not authorized to use on your cards any UGA registered mark or logo (such as the arches).  This rule is necessary for the protection of the University's intellectual property.
You may use business cards with the UGA registered mark, but only if they are ordered through the University's approved vendor: http://store.georgiaprinters.com/UGA-School-of-Law-P124.aspx . If you order these cards, do not include a "Department," and in the space for "Title," you MUST put the following as applicable:

J.D. Expected 20[xx]
L.L.M. Expected 20[xx]
Master of Law Expected 20[xx]
You will need to pay for the cards in advance, as specified by the printer.
Tips for Use:
Offer someone a card only if the conversation makes it clear that it is appropriate for you to provide them with your contact information.  You will not need to give a card to everyone you meet at an event.
Ask the other person for a card, if there is a reason for you to follow up with that person after the event.
Keep your cards handy, in a pocket if possible.  You may want to keep your cards in one pocket and your collected cards in another pocket.
As soon as you leave a networking event, make notes on the back of each card you collected.  Include relevant information, like how and where you met the person, what you discussed, and any helpful memory cues.
Save the collected cards, either physically or electronically, for appropriate follow-up.