News @ Georgia Law August 2014 Faculty Profile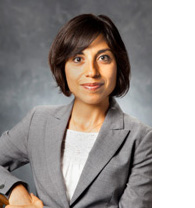 Name: Mehrsa Baradaran
Title: Associate Professor of Law
Courses: Contracts, Banking Law
Hometown: I'm not sure how to answer this one. I grew up everywhere, but mostly New York.
Law school/graduation year: New York University/2005
Other degree(s)/institution(s)/year(s): B.A. in English, minor in Chemistry/Brigham Young University/2002
1. What influenced your decision to go to law school?
I went to law school because I wanted to learn how to harness the power of the law to help marginalized people and communities overcome obstacles. I initially thought I would focus on immigration law, but my interests expanded in law school and I became much more concerned with making sure the poor and middle class get a fair deal from banks and other financial institutions.
2. What did you do before entering the legal teaching academy?
After law school, I worked in the banking regulation group of a big law firm in New York. It was a really interesting place to be during the financial crisis of 2008. I had a front row seat to watch the end of the world - or at least that's how Wall Street saw the crisis.
3. What made you decide to become a professor?
Teaching law was never my plan, but after I started to write and publish about banking reform I decided that it was something I really enjoyed.
4. What do you enjoy most about your job? What is the most rewarding aspect of being a professor?
I enjoy teaching and writing equally. A U.S. Senator recently used a significant portion of my research in one of her speeches; knowing my work has been persuasive to policy makers felt incredible, but it is just as gratifying to get emails from former students telling me that something they learned in my class has really helped them in their career.
5. What type of influence do you hope to have on your students?
I hope that I can teach my students more than the course curriculum. I hope I can inspire them to be ethical and compassionate people and professionals and to give generously of their time to those who most need it.
6. You currently teach several courses. Which one is your favorite to teach and why?
I love teaching first-year students in Contracts. They are my favorite group of students, but banking is my favorite material. Most people think banking is going to be about checkbooks and spreadsheets and - I don't know - boring stuff. To me, my banking law class is about how the world works - it's about politics and history and democracy.
7. What is one of the greatest challenges facing that area of the law today?
Where do I start? Since the financial crisis there is not a country in the developed world that isn't having a serious conversation about banking regulation and how to avoid another financial disaster. This is a dialogue that hasn't happened on this scale since the Great Depression, and I feel lucky to be able to participate.
8. What advice would you give to current law students wanting to eventually practice in that field?
Do it! There are so many opportunities in the banking and consumer protection world: at banks, at state or federal regulators, at nonprofit consumer groups, or a variety of other places related to banks. So many people are scared of banking, but when you become literate in banking regulation a very important world opens up.
9. Are you currently conducting any research? If so, what is its focus?
I am in the middle of writing a book about banking and poverty.
10. What do you consider your greatest academic contribution to date?
A few years ago, I wrote an article in which I suggested that the U.S. Post Office should offer banking services to the large population of the unbanked. And then this year the post office decided to take up the proposal! I've since been speaking about it to reporters and at conferences all over the country. It's very exciting.
11. What is your favorite thing about living in Athens?
I love that I have a stream in my backyard (as well as - not to brag - the tallest crape myrtle tree in the state!) and that I can walk into town and buy fresh French baguettes at the local bakery. There aren't many places like this.
12. What do you enjoy doing in your free time? What are your hobbies?
I really enjoy running and listening to books on tape and reading with my three daughters.
13. What do you consider your greatest accomplishment in life?
I'm not done yet, but my greatest accomplishment so far is being a mother to three awesome little girls.
14. How do you stay up to date on legal issues and trends?
I am figuring out how to use Twitter and that's been helpful.
15. What book/resource do you find yourself referencing the most?
I read everything. I find resources and interesting ideas in the most unlikely of places.
16. If you could share an afternoon with anyone, with whom would you choose to spend it?
My grandmother who I was named after. I never got to meet her, but I hear that she was an amazing woman.