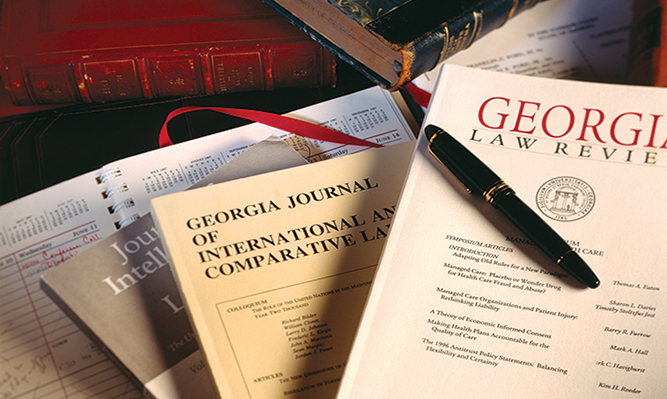 Georgia Law students publish 4 highly regarded legal journals – the Georgia Law Review, the Georgia Journal of International & Comparative Law, the Journal of Intellectual Property Law, and the Georgia Criminal Law Review. These journals, which are frequently cited by federal and state courts, textbooks, treatises and other law reviews, follow the customary format with articles from leading scholars and practitioners comprising the bulk of the content and another section consisting of student notes.
The journals provide selected students the opportunity to develop their legal analysis skills beyond the classroom experience. Previous journal members have gone on to clerk for members of the federal judiciary, practice with the most respected firms in the nation and distinguish themselves in public service.
Who Can Participate
Membership on the journals is limited to 2nd and 3rd year students who demonstrate outstanding legal writing and academic abilities. Members are selected based on a combination of grades and performance on an annual legal writing exercise.
Participating students may receive up to two hours of credit for their journal work.
The content and opinions expressed in these student-edited journals and in links to external sites appearing in the journals do not necessarily reflect the views of nor are they endorsed by the University of Georgia or the University System of Georgia.