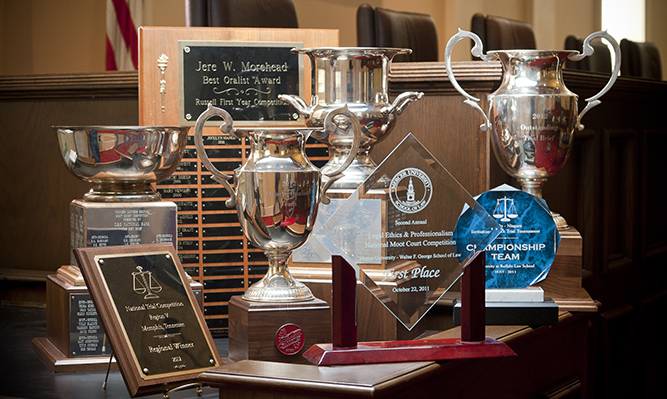 The University of Georgia School of Law is redefining what it means to be a great national public institution – offering a world-class, hands-on, purpose-driven educational experience while never surrendering its commitment to accessibility. The school's nationally recognized award-winning advocacy program is part of an unparalleled learning experience that prepares students for not only success in the courtroom but also in the boardroom or any setting that requires effective communication or negotiation skills.
Join a Winning Team

Our Moot Court and Mock Trial programs have won 12 national titles, 11 regional titles and 3 state trophies in the last five years.
All 2L and 3L students have the opportunity to participate in intramural moot court and mock trial competitions
1L students participate in the first-year Moot Court competition and are eligible to compete in the J. Ralph Beaird Closing Argument Competition

Develop Real World Skills

Participants enhance both written and spoken communication skills, preparing them for careers across all sectors of the law
Competitions provide unique opportunities to gain experience analyzing legal problems, formulating sound resolutions, and making effective arguments

Connect with the Legal Community

Competitions are held at the state, regional, national and international level, introducing participants to students and professors from law schools across the nation and the globe
Judges are typically federal jurists, leading attorneys, and other prominent members of the legal community
Mock Trial and Moot Court programs are strongly supported by faculty members and alumni who assist with preparation and practice rounds
Learn more about the benefits of participation from our Director of Advocacy, Kellie Casey Monk.
---
Related Links