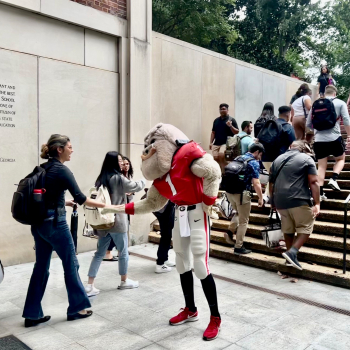 Another group of incredibly talented students from around the world enrolled at the University of Georgia School of Law for the 2023-24 academic year. 
The Juris Doctor Class of 2026 boasts a record-high 169 median LSAT score and an impressive 3.83 median undergraduate GPA. These 165 students hail from 26 states and studied at 59 undergraduate institutions. More than 20 are first-generation college graduates, all of who receive financial support as well as programmatic offerings through the First-Start Scholars Program (initiated by a gift from 1982 alumna Kathelen V. Amos and the Daniel P. Amos Family Foundation). The School of Law also welcomed six veterans, all of who are guaranteed financial assistance through the Butler Commitment (proudly supported by 1977 alumnus Jim Butler). Women comprise more than half of the entering class, and approximately one-quarter of the class self-identifies as belonging to historically underrepresented groups.
Foreign-trained lawyers pursuing a Master of Laws further diversify and enrich the School of Law community. This year's class includes 18 students from 14 countries in Africa, Asia, Europe and the Americas. Over half of the class comes to Athens with more than three years of legal experience, and eight already hold advanced law degrees. This cohort also includes a Fulbright awardee, a former Mandela Washington Fellow and a Ph.D. candidate.
The Master in the Study of Law program welcomed 10 new students who seek to merge the study of law with their professional interests. This group includes a doctor of veterinary medicine, police officers, paralegals and military veterans. They will study in Athens and Atlanta.
Alongside these talented professional students, the School of Law admitted roughly 160 new students this spring to its undergraduate minor, which is now counted among the most popular at UGA. In its third year, the Undergraduate Minor in Law, Jurisprudence, and the State offers UGA undergraduates courses taught by the School of Law's accomplished faculty. Whether these students eventually choose to pursue a law school degree or use their legal education for other endeavors, they will benefit from the first-rate legal training received.
"As the only Top-20 law school with annual resident tuition and fees below $19,000, the University of Georgia School of Law school is redefining what it means to be a great national public law school," Dean Peter B. "Bo" Rutledge said. "We offer a world-class, hands-on, purpose-driven educational experience while never surrendering our commitment to accessibility. Thank you – our alumni/alumnae and friends – for helping us to be one of the best returns on investment in legal education today."
All statistics as of 8/16/22