Pope F. Brock Professor of Law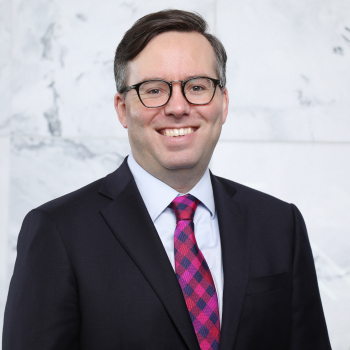 University of Georgia
School of Law
306 Hirsch Hall
Athens, GA 30602
United States
B.A., Belmont University
M.T.S., J.D., Duke University
Courses
Constitutional Law
Constitutional Law II
Law & Religion
Law & Ethics of Lawyering
Federal Courts
Biographical Information
Nathan S. Chapman teaches and writes in the areas of constitutional law, religious liberty and ethics. In 2020, he was awarded the Pope F. Brock Professorship and attained the rank of full professor in 2023. The 2021 graduating class selected him to be a faculty marshal and the 2018 graduating class awarded him the C. Ronald Ellington Award for Excellence in Teaching. Chapman is also a McDonald Distinguished Fellow of Law and Religion at the Emory Center for Law and Religion and a Nootbaar Fellow in Law and Religion at Pepperdine School of Law.
He is the author, with Michael W. McConnell, of a forthcoming volume from the Oxford University Press titled Agreeing to Disagree: How the Establishment Clause Promotes Religious Pluralism and Protects Freedom of Conscience. His scholarship focuses on the historical and theoretical underpinnings of constitutional law, especially the law of religious liberty and due process. He has also written several essays on Christianity and the law.
Chapman holds degrees in law and theology from Duke University. He litigated in the Washington, D.C., office of WilmerHale and clerked for Judge Gerald Bard Tjoflat of the U.S. Court of Appeals for the Eleventh Circuit before joining the UGA faculty in 2013.
Publications & Activities
ARTICLES
"The Arc of the Moral Universe": Christian Eschatology and U.S. Constitutionalism, 98 Notre Dame L. Rev. 1439 (2023)(invited symposium piece).
Fair Notice, The Rule of Law, and Reforming Qualified Immunity, 75 Fla. L. Rev. 1 (2023).
Las Medidas de "Acomodación" de la Religión en el Derecho Estadounidense, 49 Teoría y Realidad Constitucional 121 (2022).
The Practice of Law as Christian Discipleship, 47 Pepp. L. Rev. 331 (2020) (solicited paper for a Festschrift for Robert Cochran).
Forgotten Federal-Missionary Partnerships: New Light on the Establishment Clause, 96 Notre Dame L. Rev. 677 (2020).
Due Process of War, 94 Notre Dame L. Rev. 639 (2018).
Due Process Abroad, 112 Nw. U. L. Rev. 377 (2017).
Adjudication of Religious Sincerity, 92 Wash. L. Rev. 1185 (2017).
The Establishment Clause, State Action, and Town of Greece, 24 Wm. & Mary Bill Rts. J. 405 (2015).
The Jury's Constitutional Judgment, 67 Ala. L. Rev. 189 (2015).
Disentangling Conscience and Religion, 2013 U. Ill. L. Rev. 1457 (2013).
Due Process As Separation of Powers, 121 Yale L.J. 1672 (2012) (with M. McConnell).
Law Asks for Trust, 85 St. John's L. Rev. 521 (2011).
CHAPTERS
"Liberty of Conscience, Free Exercise of Religion, and the U.S. Constitution" in Christianity and the Laws of Conscience: An Introduction (Helen Alvare & Jeff Hammond eds., Oxford Univ. Press, forthcoming).
"Christianity and Crimes Against the State" in Christianity and the Criminal Law (Norman Doe, Dick Helmholz, Mark Hill, & John Witte, Jr. eds., Routledge, forthcoming).
"The Weight of Judgment" in Christianity and the Criminal Law (Norman Doe, Dick Helmholz, Mark Hill, & John Witte, Jr. eds., Routledge, forthcoming).
ONLINE
An Evaluation of Religious Exemptions from COVID-19 Vaccine Requirements, Canopy Forum (2021) (with S.L. Bray).
Tech Pluralism, First Things (Nov. 2021).
Constructing the Original Scope of Constitutional Rights, 88 Fordham L. Rev. Online 1 (2019).
The Fourteenth Amendment Due Process Clause, National Constitution Center (with Kenji Yoshino).
Substantive Due Process: Text, History, and Experience, National Constitution Center.