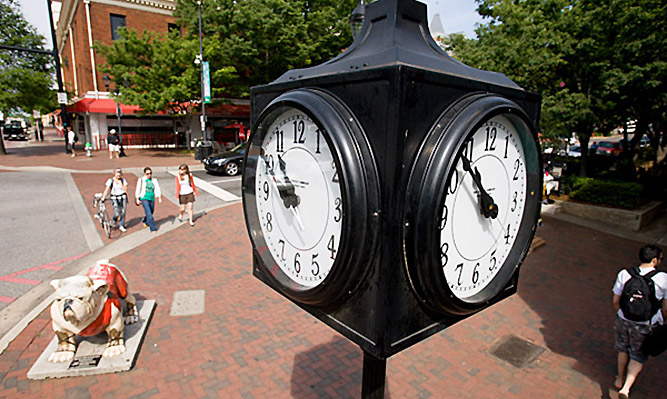 Students at University of Georgia School of Law enjoy the best of both worlds: the fun and excitement of a thriving college town and the professional opportunities of the Southeast's major legal market.
While life as a law student is busy, Athens offers many opportunities to take a break from studying just a short walk from campus. The area's entertainment offerings and facilities rival those of much larger cities, and a plethora of activities and events cater to a student's budget.
Music & Nightlife

Athens has a cutting-edge music scene that features big name bands and local musicians with a loyal following. Students enjoy great venues like the fabulous 40 Watt Club, Classic Center, and the Melting Point. Find more:
Outdoor Enthusiasts

For the outdoor enthusiast, hiking, boating, white-water rafting, skiing excursions to the North Georgia mountains and the sunny beaches of Georgia's coast are a short drive away.

Avid runners and cyclists will find Athens a veritable paradise. And everyone can enjoy leisure activities like a stroll along the 313-acre State Botanical Garden's nature trails, a trip with the dog to Sandy Creek Park and 18 holes at the UGA Golf Course.

Find more:
Local Events

School of Law students are active in the Athens community and enjoy many of the town's local events. Fans of the music and art scene attend AthFest, a 3-day festival that features street vendors, a juried art exhibition, and more than 175 bands at nearly every Athens venue. Cycling enthusiasts enjoy the Twilight Criterium, an 80-kilometer bike race around downtown Athens that was featured in Outside magazine as one of the best races in America. The Wild Rumpus is an annual Halloween Event and all are invited to be a part of the Wild Rumpus Parade by showing up in costume and romping through the streets of downtown with thousands of other Wild ThingsThe Performing Arts Center at the University of Georgia and the Classic Center in Athens also offer a variety of shows, operas, ballets and concerts through the year.

Find more:
Museums & Arts

University students and area artists make for a thriving cultural scene that includes art, dance and theatre. Some of the can't-miss spots include the Georgia Museum of Art, the state's official art museum; Good Dirt, a gallery and create-your-own pottery studio; and Town and Gown Players, the Athens community theatre.Find more:

UGA Sports

Football at the University of Georgia isn't the only sport on campus, but it is serious business. We love our Dawgs! Saturday is game day, and that means the restaurants are packed, the streets are busy and it's time to dress your best. Georgia fans also go wild for our 10-time National Champion GymDogs gymnastics team.

Learn more about UGA Sports

Don't worry if you're not the spectator type. The Ramsey Student Center --- twice rated the best facility of its kind by Sports Illustrated---has 3 pools, 10 racquetball and 2 squash courts, weight rooms, a running track and a climbing wall. Georgia Law also has a variety of intramural teams, including football, softball and a basketball team that competed in the 2008 National Final Four Intramural Championship game.