Quarterly E-Newsletter
| | |
| --- | --- |
| | This quarterly electronic newsletter is aimed at keeping the law school community up-to-date on news items, announcements, upcoming events and faculty/student accomplishments.  If you would like to sign-up to receive future editions, please email lawcomm@uga.edu. Also, please be sure to add lawcomm@uga.edu to your address book so the e-newsletter will not accidentally be filtered into your junk mailbox. |
---

Past Newsletters                        
 
2015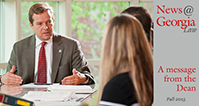 Fall 2015 issue
Law school launches the Georgia Law Challenge; Georgia Law welcomes a record-setting J.D. class and its 2015-16 LL.M. Class; Former U.S. Sen. Chambliss provides semester of political, legal insights as Sanders Scholar; Georgia Law launches full-time semester of work/study in Atlanta; Georgia state representative makes $500,000 gift; Sanders' legacy strengthened as Deans' Suite is named and student scholars are selected; Professor honored by scholarship donation and another professor completes pledge to establish chair; Sohn Library to be rededicated in renovated Dean Rusk International Law Center;  Two professors cited by U.S. Supreme Court; Hashimoto testifies before U.S. Senate Judiciary Committee; Baradaran publishes book on the U.S. Postal Service providing banking services; Lori A. Ringhand named new law school associate dean for academic affairs;  Christine M. Scartz (J.D.'94) joins faculty as Family Violence Clinic managing attorney; Four Georgia Law professors gain promotions; Graduates gain victory in U.S. Court of Appeals for the Eleventh Circuit; Community HeLP Clinic caps successful year with win; Gainesville firms win Firm and Corporation Alumni/Alumnae Challenge; Anne S. Moser named permanent senior director of law school advancement; Meet some of the law school's newest employees; Downs' loan repayment program deadline approaching; other debt relief assistance available to graduates; Free access to HeinOnline Law Journal Library; In the Spotlight: Assistant Professor Jason A. Cade; Alumnus Charles W. Lamb Jr. (J.D.'98); and Third-year student Sarah E. Halstead; Class Notes & In Memoriam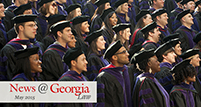 May 2015 issue
Yates confirmed as U.S. deputy attorney general; U.S. District Court Judge Steve Jones to deliver Georgia Law commencement speech; Burch receives American Law Institute's Young Scholars Medal; Hashimoto named Josiah Meigs Distinguished Teaching Professor and associate dean for clinical programs and experiential learning; Moser to lead advancement office; Hunnicutt, Loudermilk and White receive DSS Awards; Brown, Ringhand and Turner recognized by students, other Awards Day honors; Eaton and Wood appointed to law school's Board of Visitors; Notable faculty scholarship; Students recorded strong finishes in advocacy and negotiation competitions; White and Blanchard receive awards from UGA Alumni Association; Six Georgia Law alumni and one professor make Daily Report's First Lifetime Achiever List; Students receive grants for Global Internship Program; Want to help plan your next class reunion; Now accepting Master in the Study of Law applications for the fall of 2015; Class Notes & In Memoriam; In the Spotlight: Assistant Professor Kent Barnett, 1996 alumna Karri L. Palmetier of Denver, Colorado and third-year student Andrew D. Mason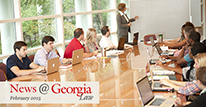 February 2015 issue
Rutledge assumes deanship; Georgia Law receives $3.4 million from the estate of the late Gov. Sanders; Scholarship established in honor of Rebecca White; Amann and Rodrigues named associate deans; Associate Dean Emeritus Paul Kurtz delivers UGA Founders Day Lecture; Five conferences and annual auction highlight spring calendar; Law school to debut spring alumni weekend; Notable faculty scholarship; Georgia Law ranks high for preparing students for work and moot court; Grant replaces Schaffer at Family Violence Clinic; Digital Commons reaches one million downloads; Seven alumni included in "Most Influential" and "Notable Georgians" list; Brad Grove named employee of the year; Class Notes & In Memoriam; In the Spotlight: Carter Chair in Tort and Insurance Law Michael L. Wells, 2005 Alumna Kira Y. Fonteneau of Birmingham, Alabama and third-year student T. Peyton Bell
2014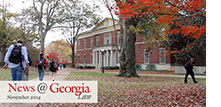 November 2014 issue
Peter B. "Bo" Rutledge named dean of Georgia Law; Georgia Law paid a visit by Supreme Court Justice Clarence Thomas; Janet Napolitano gives 112th Sibley Lecture; PepsiCo leader Indra Nooyi speaks on modern corporations; International Criminal Court Prosecutor headlines conference; Georgia Law wins National Trial Advocacy Tournament; Law school team wins Georgia/Florida moot court competition; Georgia Law hosts Junior Faculty Federal Courts Workshop; Notable faculty scholarship; Gardial and Ralston win England Mock Trial Competition; Blue Key Honor Society recognizes Carnes and Spalding; Ten Georgia Law alumni named to Rising Stars 2014 list; Law school welcomes Adams, Hinson and Headrick; Best wishes for the upcoming holiday season; Include Georgia Law in your year-end charitable giving; Class Notes & In Memoriam; In the Spotlight: University Professor and Caldwell Chair in Constitutional Law Dan T. Coenen, 1997 Alumnus Robert J. "Bobby" Soper and Second-Year Student Carlos W. Alexander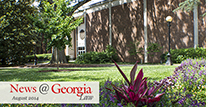 August 2014 issue
Georgia Law welcomes the talented Class of 2017; Committee named to seek dean of Georgia Law; In Memoriam: Dean Emeritus J. Ralph Beaird; Law School Fund has record year; annual firm challenge winners named; Rankings place Georgia Law high for federal judicial clerkships; Georgia Law alumni association presents highest honor to Morehead and Knox; Advocacy team places in top 16 teams at the Vis International Commercial Arbitration Moot; Six faculty receive promotions; Beck publishes article in the Washington and Lee Law Review; Rutledge publishes article in the Vanderbilt Law Review; West publishes article in the Harvard Law Review; Georgia Law welcomes new legal research and writing instructors; Carnes sworn in as U.S Court of Appeals judge; Applications for the 2015 Master in the Study of Law degree now being accepted; Hale to serve as faculty adviser; Roseboro, Bridges and Sklut promoted; new career development director hired; Make plans to attend the law school's annual BBQ; Four Georgia Law graduates included in UGA Alumni Association's 40 Under 40 Class of 2014; Downs' loan repayment program deadline approaching; other debt relief assistance available to alumni; Class Notes & In Memoriam; and Spotlights of Associate Professor Mehrsa Baradaran, 2011 Alumna Sherwin K. Figueroa and third-year student Amanda M. McDowell
Dean White to step down; Georgia Law Advocacy Program has record year; brings home four national titles; ABA's Rives to deliver graduation keynote; Appellate Litigation Clinic students claim victory; Georgia Law welcomes executive director of career development; Three faculty recognized for excellence; Amann serves as distinguished discussant and publishes book; Baradaran publishes article in the Harvard Law Review Forum; Hall publishes article in the University of Pennsylvania Law Review Online; Hashimoto publishes article in the Northwestern University Law Review; Hellerstein publishes article in the Virginia Tax Review; Smith named president-elect of the Association for Law, Property and Society; Alumna named to Time magazine's 100 Most Influential List; Ward receives honorary Doctor of Laws from UGA; Georgia Law Review launches online companion journal; calls for submissions; Changes to reunion event planning; International programs continue to benefit students; Class Notes & In Memoriam; and Spotlights of Assistant Professor Timothy Meyer, 1979 Alumnus Robert A. Whitlow and LL.M. student Mats Meyer.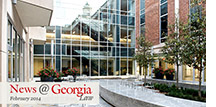 March 2014 issue
Students win National Moot Court Competition and "best of the best" national moot court tournament plus take top trophy at regional round of national mock trial competition; Georgia Law captures the ABA Tax Challenge top trophy; Appellate Litigation Clinic gains victory in court; Georgia Law finishes as semifinalists in Transactional LawMeet regional; School plans to offer new degree; Concourse named in honor of Kirbo family; Georgia Law hosted judicial ethics conference; Students organize music industry conference; Recent events held at Georgia Law focused on the intersection of public health and environmental law as well as public interest law; Meyer and Rutledge testify before U.S. Senate committees; Amann publishes article in the Washington University Global Studies Law Review; Cade publishes article in the Columbia Law Review Sidebar; Cohen publishes article in the Vanderbilt Journal of Transnational Law; Meyer publishes article in the Chicago Journal of International Law; Rutledge publishes article in the NYU Journal of International Law and Politics; Law school expands e-communications; Talmadge, England and Beaird competition results; Alumni David Jones, Ronnie Mabra and Jim Trotter named to the Bulldog 100 fastest growing business list; Law library designated as a sustainable office; Whitehair named law school's employee of the year; A Message from LCS; Class Notes & In Memoriam, and In the Spotlight: Hosch Professor Julian A. Cook III, 1983 Alumna Jennifer D. Bailey and Third-year Law Student Kaitlin Marie Ball.
2013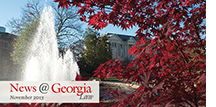 November 2013 issue
Justice Stevens delivered keynote address at freedom of the press conference; Georgia Law continues to be recognized as a best value; Investiture ceremony for UGA president; Moot court program earns national attention; "Tinker Tour" visited Athens; Hellerstein publishes book on taxation of global digital commerce; Wharton publishes book on legal writing and legal method; Cook selected as SEC Administrative Fellow; Dodge chosen for Next Generation Program; Watson named All-Star; Cohen honored with membership in the American Law Institute; SCOTUSblog conference available for viewing online; O'Reilly joins Office of Law School Advancement; Best wishes for the upcoming holiday season; Include Georgia Law in your year-end charitable giving; A Message from LCS; Class Notes & In Memoriam; In the Spotlight: Charles H. Brown (LL.B.'63), Associate Professor Hillel Levin and Third-year law student David Dove.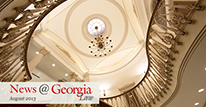 August 2013 issue
Georgia Law welcomes the Class of 2016; Morehead installed as UGA's 22nd president; Former U.S. ambassador serves as Sanders Scholar; Renovation work completed; Rutledge named associate dean for faculty development and five other faculty promoted; Three new professors join the Georgia Law faculty; Ringhand publishes book on U.S. Supreme court confirmation process; Cohen participates in U.N. Consultative Process; Darden and Jones receive DSS Award; Alumna recognized as one of the world's most powerful women; Six Georgia Law grads selected for UGA's 40 under 40; Roseboro to lead admissions efforts and Bridges to be associate director; Make plans to attend the law school's annual BBQ and Reunion Weekend; Class of 1973 reunion to be help in September; Law Library introduces Chat Reference; Savannah and Gainesville firms win Firm & Corporation Alumni Challenge; Baines joins Georgia Law's development team; Loan repayment/debt relief assistance available to alumni; A Message from LCS; Class Notes & In Memoriam; In the Spotlight: GreenLaw Executive Director Stephanie Stuckey Benfield (J.D. '92), Hosch Professor Thomas A. Eaton and Second-year law student Xon Hostetter.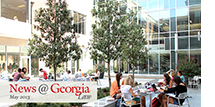 May 2013 issue
Sixth graduate in nine years selected to clerk for U.S. Supreme Court; Advocacy teams finish the season with national win and other top honors; U.S. Court of Appeals Judge Martin to deliver commencement address; Portrait unveiling ceremony for U.S. District Court Chief Judge Carnes; Cuban embargo conference; Sibley Lecturer addresses social injustices; U.S. Court of Appeals Judge Jones delivers House Lecture; Judges discuss diversity on the bench; Kurtz to step down in June and Brown named successor; Amann honored with international law award; Thompson named ASIL counsellor; Burch selected to join ALI; Faculty members recognized for excellence; Law school launches Transnational Law Program; Second-year law student elected president of ILSA; 2013 Awards Day Ceremony; Russell and Beaird competition winners; Alumni invited to participate in European summer study program for CLE credits; Georgia Law welcomes Douglas and says farewell to Olidge; LL.M. Alumni Association welcomes its newest members; Justice Blackwell inducted into Georgia Law Phi Alpha Delta chapter; Follow the law school on Twitter; A Message from LCS; Class Notes & In Memoriam; In the Spotlight: Duane Morris partner Woody Jameson (J.D.'88), Associate Professor Usha Rodrigues, Third-year law student Mahdi Abdur-Rahman.
Alumnus Jere Morehead named next UGA president; UN World Food Programme Director speaks at Georgia Law events; Amann appointed special adviser to the International Criminal Court; Advocacy and Negotiation Competition teams bring home national championship and other top honors; Upcoming conferences focus on music law, environmental law, public interest law and trade law; Faculty Highlights: Lori A. Ringhand,  Timothy Meyer, Logan E. Sawyer III and Harlan G. Cohen; Georgia Law student wins top honors at legal writing competition; Alumnus featured in Sundance Film Festival documentary; Second-year law student crowned Miss UGA; Bridge named in memory of former Associate Dean Ellen Jordan; Three alumni recognized in Bulldog 100 listing; Baker named 2012 law school employee of the year; Class Notes & In Memoriam; In the Spotlight: U.S. General Services Administration Regional Administrator Shyam Reddy (J.D.'00), Associate Professor of Law Harlan Cohen and Second-year law student Courtney Coons.