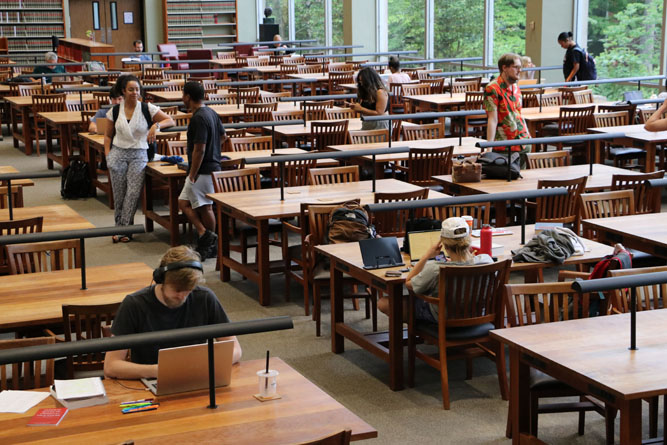 Programs of Study
The Juris Doctor is conferred upon the successful completion of the three-year, full-time program of legal study at the School of Law. On average, greater than 95 percent of the members of each entering class graduate. The J.D. graduate must successfully complete the 1L Curriculum, earn a minimum of 89 semester credit hours (for students matriculating in Fall of 2023 or thereafter), satisfy our upper level writing requirements, and complete the required course in The Law and Ethics of Lawyering, as well as a Practical Skills offering. Because obtaining a legal education is a challenging and time-consuming task, you should be prepared to devote substantially all working hours during the academic year to the study of law. The University of Georgia does not offer a part-time law program. Therefore, first-year students are urged to refrain from taking jobs when classes are in session, and no law student is allowed to work in a paid position that requires more than 20 hours per week during the academic year. Despite the rigorous demands of legal education, many law students want to further expand their educational horizons by gaining specialized training in other fields while earning their law degrees. The University of Georgia offers three ways to do this: elective credit, dual degree programs, and concurrent enrollment.
In addition to the Juris Doctor, Georgia Law offers two other programs of study: 
Courses of Instruction
You will find a broad and challenging curriculum at the School of Law - nearly 170 courses are offered, although not all of the listed courses are taught each year. First-year students are just as likely to encounter a tenured or chaired faculty member in the classroom as they are a junior professor. Distinguished visitors and adjuncts supplement the faculty and diversify the upper-level curriculum.
The law school prefers to keep classes small, enrolling approximately 185 students each fall. Most first-year classes average around 60 students, although the Legal Writing and Legal Research class is conducted in six smaller sections of about 30 students, permitting greater individual attention. Second- and third-year classes range in size from a seminar setting of 10 - 20 students to larger classes with 100 students.
Order of the Coif
Students who excel in the School of Law's curriculum and graduate in the top 10 percent of their class are eligible for induction into the Order of the Coif, legal education's equivalent of Phi Beta Kappa. Coif membership signifies the highest academic achievement in the study of law. The University of Georgia was granted institutional membership in 1977, after meeting stringent qualification criteria. Approximately 80 American law schools have a chapter at their institution.
Governed by a Code of Honor
Students at Georgia Law are governed by a standard of professional and personal conduct, the Honor Code. The code was unanimously adopted as an initial matter in 1930 by the student body and remains a central part of UGA's principled approach to legal education. Students are an integral part of the administration of the Honor Code. Elected by their fellow classmates, Honor Court investigators and members participate in the determination of whether a violation has taken place and assessment of punishment. Entering students take the Honor Code pledge during orientation and are bound by its provisions while enrolled at UGA.