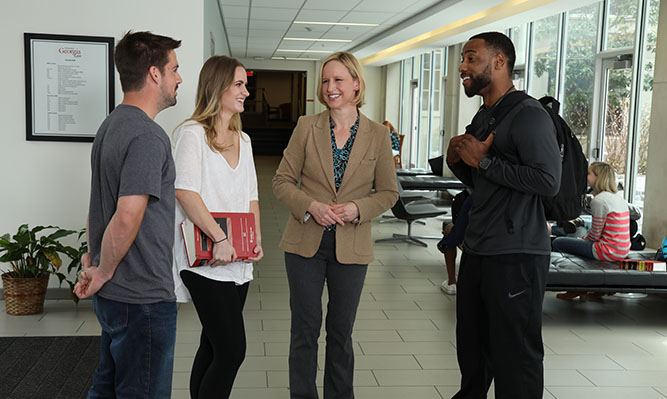 As one of the nation's top law schools the University of Georgia School of Law provides a world-class, hands-on, purpose-driven educational experience and now offers an undergraduate minor to help students better understand how the law works, how the law matters, and how it can be used to create a career that makes a difference.
The curriculum is specifically designed for UGA undergraduate students, with classes taught by some of the same law professors who teach the School of Law's Juris Doctor students. These award-winning professors will help you learn how lawyers use the law to bring justice to their clients and society.
The Minor in Law, Jurisprudence, and the State has built in flexibility so you can integrate your legal studies with your other academic interests and course of study. You can build your own version of the minor with a variety of classes at the law school - from trial practice to international law or legal history. You can also satisfy the minor's requirements with classes from over 20 different colleges and departments across the university.
If you are headed to law school, you can prepare yourself by taking law classes from full-time law professors, but this minor is not just for aspiring lawyers. Understanding the operation of law and its effects are important to an enormous number of careers. Politicians, business leaders, journalists, activists, counselors and others can all benefit from learning how legal professionals analyze problems and how their analysis can shape the economy, politics, society and culture. Ultimately, this minor extends the School of Law's commitment to educating not just the next generation of lawyers but the next generation of leaders for state and society. We hope you will join us.
Undergraduate School of Law Courses
How the Program Works
The Minor in Law, Jurisprudence, and the State will prepare UGA students to be leaders in their communities by providing them an enhanced understanding of the connections between law, society, citizenship and democracy and by sharpening their critical thinking skills. It will benefit those intending to go to law school, while also providing a competitive advantage for those seeking careers where the understanding of the operation and effects of the legal system is important, but where the actual jobs do not require a Juris Doctor.
Completion of the Minor in Law, Jurisprudence, and the State will require 15 total hours, comprised of:
Two required courses (6 hours total) taught by School of Law faculty:
Three elective courses (9 hours total) taught by School of Law faculty or other UGA units.
Students must complete one course from each of the following categories:
The Minor in Law, Jurisprudence, and the State is designed to help students better understand how the law works, how the law matters, and how it can be used to create a career that makes a difference. The program allows students to take classes with some of the same professors who teach UGA's Juris Doctor students and integrate those legal studies with their other academic and professional interests. It thus offers a unique opportunity for students interested in a legal career, as well as students who plan to take other career paths but recognize the importance the law plays through society.
Here are a few comments that reflect the response of our students:
"The Law, Jurisprudence and the State minor completely transformed my career path here at UGA! Each course includes experienced law professors and a unique classroom atmosphere mirroring law school. As an incoming first-generation law student, the minor provided valuable resources and access to the legal community. The classes connected me with UGA Law professors who guided me through the application process and answered any questions I had about law school. If you're interested in law school, this minor is definitely for you!"
"I would recommend the Law minor to anyone who has even the slightest interest in law school. The minor has made me feel more prepared to go into law school with more knowledge on the law itself, how the classes are taught, and their structure. It has challenged me more than any other classes I have taken at UGA thus far and provided connections that I will take with me into my next chapter after undergrad."
"Law classes originally caught my eye because I like to learn about current events and how Supreme Court decisions are made through the law, but after I took your class, I realized there was a lot more to law, and I wanted to know more."
"The courses under the UGA Law school undergraduate minor undeniably gave me a distinct advantage in law school. The required courses, both taught by UGA law professors, feel like law school and simulate what law classes are truly like. The skills worked on in the course, namely reading cases and making an argument, are paramount for law school students and I cannot recommend the minor enough to undergraduate students who believe they want to attend law school. Paired with the UGA 'Pre-Law' program, the courses are a strong foundation for law students."
"Since I started at UGA, I had no idea what I wanted to major in. I have always had a passion for fairness and been interested in crime but never knew how I wanted to use those passions, so I was undecided. For the last year I have taken what feels like every single intro class UGA offers to see what sparked my interest but never found something that I was super passionate about until taking your class. Because of how much I have enjoyed your class (from the content to the way you teach) I just recently declared a double major in sociology and intended CJ and I am planning on applying to the law minor. I know you mostly teach in the law school but I just wanted you to know how much of an impact this class, and you as a professor, have played in my decision to declare my major!"
"The legal subject matter and style of the class are obvious contributors to this preparation, but it was really the way the class pushed me outside of my comfort zone that prepared me most. Not only did the class push me to think about the material in a different way than I had before, but also the structure of the class gave me the confidence in myself to know that I could successfully construct an argument and defend it, no matter how nervous I felt."
"This has been one of the most rewarding courses I've ever taken at UGA. I've always held out law as an area I might want to go into, but I had never had a chance to explore whether or not it was the direction I wanted to go in until this class. This class inspired me to actually want to try to go to law school at some point in the future."
The Minor in Law, Jurisprudence, and the State is a high-demand minor, which means that the number of students who may take the minor is limited. Students may apply for admission only upon meeting entrance eligibility requirements. Even if all eligibility requirements are met, admission is not guaranteed.
To qualify for the minor, you must:
be a current UGA undergraduate,
have a minimum 12 UGA (

in

stitutional) credit hours (grades posted)
have a minimum cumulative GPA at UGA of 3.2, and
have fulfilled the UGA general education U.S. Constitution requirement, either by passing the required examination or by completing a course that provides an exemption.
Fulfillment of these application requirements must be documented in a UGA student record when the application is submitted--no exceptions.
To apply for admission to the minor, a student must also submit:
the grade in the class used to satisfy the UGA general education U.S. Constitution requirement, if available, and
a personal statement of no more than 600 words that explains why you hope to minor in Law, Jurisprudence, and the State.
When applications open a link will be provided on this webpage.
Application Dates
Applications will open again in Spring 2024
For more details please click "How to Apply" above.
Questions?
Email lawminor@uga.edu