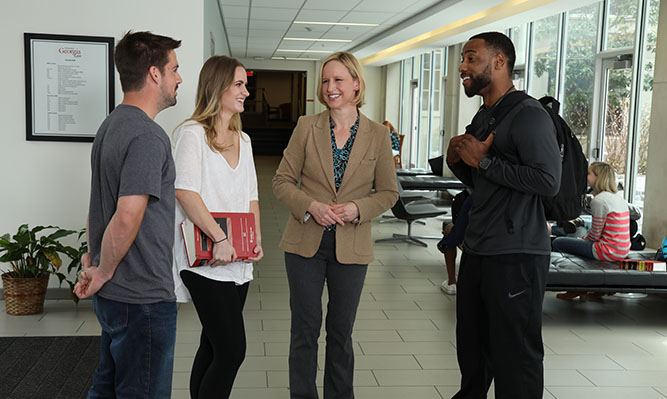 The University of Georgia School of Law - one of the nation's top law schools - now offers an undergraduate minor to help students better understand how the law works, how the law matters, and how it can be used to create a career that makes a difference.
The curriculum is specifically designed for UGA undergraduate students, with classes taught by some of the same law professors who teach the School of Law's Juris Doctor students. These award-winning professors will help you learn how lawyers use the law to bring justice to their clients and society.
The Minor in Law, Jurisprudence, and the State has built in flexibility so you can integrate your legal studies with your other academic interests and course of study. You can build your own version of the minor with a variety of classes at the law school - from trial practice to international law or legal history. You can also satisfy the minor's requirements with classes from over 20 different colleges and departments across the university.
If you are headed to law school, you can prepare yourself by taking law classes from full-time law professors, but this minor is not just for aspiring lawyers. Understanding the operation of law and its effects are important to an enormous number of careers. Politicians, business leaders, journalists, activists, counselors and others can all benefit from learning how legal professionals analyze problems and how their analysis can shape the economy, politics, society and culture. Ultimately, this minor extends the School of Law's commitment to educating not just the next generation of lawyers but the next generation of leaders for state and society. We hope you will join us.
Undergraduate School of Law Courses
How the Program Works
The Minor in Law, Jurisprudence, and the State will prepare UGA students to be leaders in their communities by providing them an enhanced understanding of the connections between law, society, citizenship and democracy and by sharpening their critical thinking skills. It will benefit those intending to go to law school, while also providing a competitive advantage for those seeking careers where the understanding of the operation and effects of the legal system is important, but where the actual jobs do not require a Juris Doctor.
Completion of the Minor in Law, Jurisprudence, and the State will require 15 total hours, comprised of:
Two required courses (6 hours total) taught by School of Law faculty:
Three elective courses (9 hours total) taught by School of Law faculty or other UGA units.
Students must complete one course from each of the following categories:
The Minor in Law, Jurisprudence, and the State is a high-demand minor, which means that the number of students who may take the minor is limited. Students may apply for admission only upon meeting entrance eligibility requirements. Even if all eligibility requirements are met, admission is not guaranteed.
To qualify for the minor, you must:
be a current UGA undergraduate,
have completed 15 credit hours at UGA,
have a minimum cumulative GPA at UGA of 3.2, and
have fulfilled the UGA general education U.S. Constitution requirement, either by passing the required examination or by completing a course that provides an exemption.
Fulfillment of these application requirements must be documented in a UGA student record when the application is submitted--no exceptions.
To apply for admission to the minor, a student must also submit:
the grade in the class used to satisfy the UGA general education U.S. Constitution requirement, if available, and
a personal statement of no more than 600 words that explains why you hope to minor in Law, Jurisprudence, and the State.
Application Dates
The next application window for the minor will be Feb. 14-28, 2022.
Questions?
Email lawminor@uga.edu