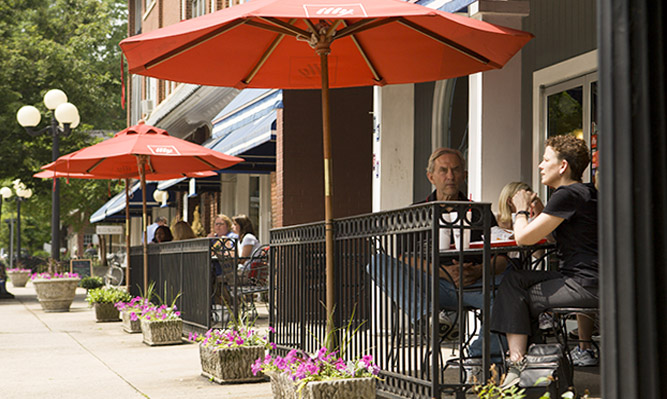 Athens offers convenient and affordable living without sacrifice. A diverse array of local restaurants is available to suit every taste and budget. Explore housing options and learn more about Athens' classic dining spots.
Housing

Home to thousands of students, Athens offers a variety of housing options. From large apartment complexes to neighborhood rental houses, you're guaranteed to find a place to fit your needs and call home during your 3 years of law school. While on-campus housing is available, most law students choose to live off-campus. The School of Law Office of Admissions is happy to provide assistance to admitted law students interested in finding roommates. Find housing:
Dining

Athens has a place to eat for every appetite, from the upscale dishes at Five & Ten and the soul food at Weaver D's to vegetarian choices at The Grit and the famous chili dogs at The Varsity. Learn more about local restaurants:
Pet-Friendly Community

It could be our mascot, the open-minded atmosphere or maybe it's just the great weather. Whatever the reason, Athens is a dog town. Students and residents bring their well-behaved pets to local restaurants and enjoy the area's dog parks, both on- (UGA Intramural Fields) and off-campus (Memorial Park). The city also has plenty of groomers, pet supply stores and canine bakeries.