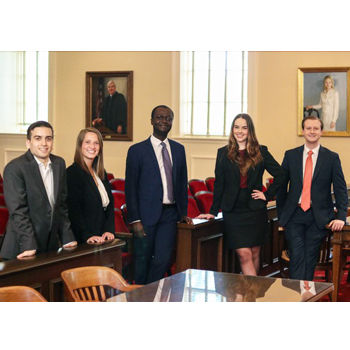 The University of Georgia School of Law proudly announces the creation of the Georgia Criminal Law Review, the school's first new student-edited journal in nearly 30 years.
The Georgia Criminal Law Review will become the school's fourth journal, joining the Georgia Law Review, the Georgia Journal of International and Comparative Law and the Journal of Intellectual Property Law. 
It will be the first student-led legal publication in the state of Georgia and one of the few across the country to specifically address critical issues emerging from the field of criminal law, according to Richmond B. Wrinkle, who helped establish the journal along with classmates Emmanuel Kyei, Daniel M. Zimmer, Alexandria H. "Alex" Clark and Audrey C. Cunningham prior to their graduation last month.
The journal will seek to identify and address emerging legal trends that are useful for practitioners and scholars alike by producing content through easily digestible mediums.
"Considering that criminal law is one of the most rapidly developing and socially significant fields of practice and scholarship, the journal will present a timely opportunity for students, scholars and practitioners to address critical issues in the criminal legal system," Wrinkle said.
The establishment of Georgia Criminal Law Review follows the success of the First Annual Georgia Criminal Law Symposium titled "Sentencing in Georgia: Using Our Past to Propel Us Forward," which was held at the School of Law in February 2022.
The inaugural volume, expected to be released in spring 2023, will publish content from the 2022 symposium. It is anticipated that future issues will include proceedings from this annual symposium.
Rising-third year student Molly Laughlin will serve as editor-in-chief of volume one.
Pictured above are the journal's founders: (l. to r.) Daniel Zimmer, Alex Clark, Emmanuel Kyei, Audrey Cunningham and Richmond Wrinkle. Photo by Tristen Webb.