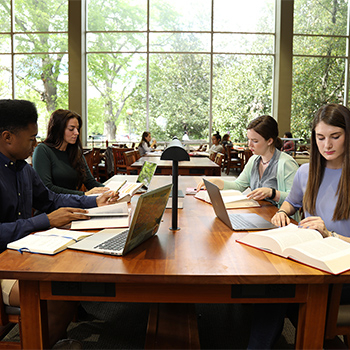 Thanks to two donors and the University of Georgia Foundation, the School of Law proudly announces the creation of two new scholarship funds totaling $500,000. These commitments are helping the law school redefine what it means to be a great national public law school.
The Eric L. Roden Civil Justice Scholarship will benefit students who have an interest in oral advocacy and the pursuit and defense of civil justice.
"Having had the privilege of attending the University of Georgia School of Law and watching the amazing growth and development of the institution under Dean Rutledge since 2015, I felt it incumbent upon me when called on to support his continuing efforts," Roden, a 2012 alumnus, said. "When I attended UGA Law from 2009 to 2012, I was granted a nearly full merit-based scholarship. That privilege and the absence of crippling debt that so many students graduate from both undergraduate and graduate school with is what gave me the financial opportunity to start my firm so early in my career at the age of 26. That opportunity has made all the difference.
"I share Dean Rutledge's passion and vision for accessible, affordable, collaborative higher education. I'm excited to continue watching the amazing things that are happening at the University of Georgia School of Law and I'm proud to be able to contribute to that process in this small way," Roden said.
Additionally, the Polsinelli Simmons Family Scholarship, created by Polsinelli Chairman and Chief Executive Officer F. Chase Simmons (J.D.'97), will be designated for students enrolled at the law school who are committed to furthering the advancement of women in law.
"As a proud UGA Law graduate, the school set me on my own career path as a lawyer and ultimately on the path to lead Polsinelli. I have long wanted to pay it forward and give back to the future generation of lawyers attending this world-class institution," Simmons said. "I am surrounded by incredible women, both at the firm, among our clients and in my own family, so when I decided to create this scholarship, I wanted it to have a very specific purpose that aligns with Polsinelli's commitment to diversity, equity and inclusion and advances women in the profession."
Through gifts like these, the School of Law is able to offer a world-class, hands-on, purpose-driven educational experience while never surrendering our commitment to accessibility and affordability.
"I would like to thank Eric and Chase for their generosity, as well as express my gratitude to the UGA Foundation, under the leadership of Trustee Chair Neal J. Quirk Sr. (J.D.'87), and UGA President Jere W. Morehead (J.D.'80) for their ongoing support of the School of Law," Dean Peter B. "Bo" Rutledge said. "These sorts of partnerships help us to produce the next generation of legal leaders as part of our mission to redefine what it means to be a great national public law school."