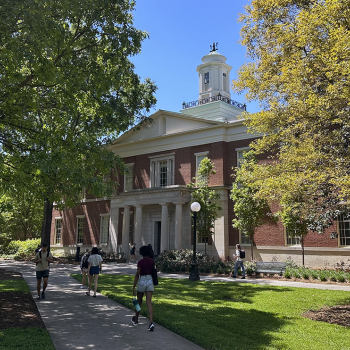 The University of Georgia School of Law has reached another milestone as it seeks to redefine what it means to be a great national public law school – one that offers a world-class, hands-on, purpose-driven educational experience while never surrendering its commitment to accessibility. 
In the U.S. News & World Report law school rankings released earlier today, the school now ranks 20th among the nation's 196 fully ABA-accredited law schools (our highest ranking ever). This historic ranking places the School of Law among the top seven public law schools in the nation and as the leader in Georgia for the third straight year.
This comes on the heels of other historic achievements like the nation's #1 employment rate for High Value jobs for the Class of 2021, a near-99% Ultimate Bar Passage Rate for the Class of 2020 and six straight years among the top two of the nation's best values in legal education.
"Many contributed to this latest milestone," Dean Peter B. "Bo" Rutledge said. "Our students work hard every day and inspire dedicated faculty and staff to help them become future leaders for state and society. You – our alumni/alumnae and friends – contributed critical financial resources for scholarships and other programming as well as mentored and offered jobs to our students. Special thanks go to UGA President Jere Morehead (J.D.'80) and the UGA Foundation for embracing our vision and providing indispensable support.
"A high-quality, affordable professional education is our nation's single greatest catalyst for upward economic and social mobility," Rutledge continued. "True to that mission, student borrowing has declined by 45% over the past nine years, and 100% of first-generation college graduates and veterans currently enrolled at the law school receive financial aid.
"Thank you for your role in creating legal leaders prepared to succeed and thrive wherever their careers take them – whether it be a large firm, a corporate boardroom, a public defender's or prosecuting attorney's office, a nonprofit or a government agency. Together, we are redefining what it means to be a great national public law school," he concluded.  
Notably, the School of Law also rose in several U.S. News specialty rankings. The school is now ranked 13th in Trial Advocacy, 15th in International Law and 34th in Clinical Training.  
University of Georgia 5/11/23 release: UGA School of Law earns highest U.S. News ranking ever