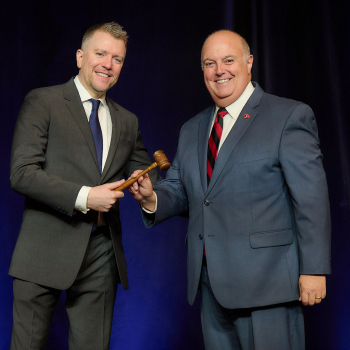 During April, Assistant Dean for Career Development Tony Waller became the president of NALP (the National Association for Law Placement), an international association of over 3,000 legal career professionals who advise law students, lawyers, law offices and law schools.
Of note, he is the first person from the state of Georgia to serve in this leadership capacity in more than two decades.  
Waller joined the School of Law in 2015 as the school's director of public sector career advising and bar exam success programming, and he has been responsible for advising students and graduates on public interest and governmental employment as well as ensuring employers in those practices have access to School of Law students. Additionally, he is responsible for the school's bar success programming.
Prior to coming to UGA, Waller was the chief executive officer and executive director of Children First, a nonprofit organization in Athens, Georgia, and he also served as the assistant dean for career planning and professional development at the University of Illinois College of Law.
Professionally, Waller has been a longtime member of NALP, having served as president-elect, vice chair of the Nominating Committee and the Conference Planning Committee, chair of the JD Advisors Section as well as a member of the Technology Resource Group and the By-Law Review Committee. A resident of Oconee County, he is also active in the community, serving on the Oconee County Marching Band Boosters, Colham Ferry Elementary School and Oconee County Middle School PTO boards in addition to the Oconee County Superintendent Parents Council.
Waller earned his bachelor's degree cum laude in agricultural economics and his law degree from UGA.
Photo by Richard Mitchell at Richard Mitchell Photography (https://www.richardmitchell.com/)