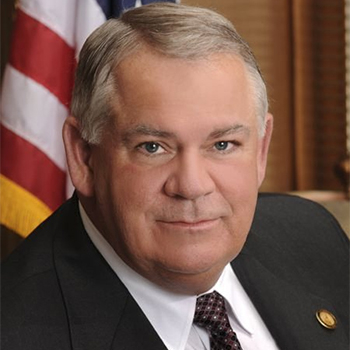 The late Georgia Speaker of the House David E. Ralston is being memorialized with a scholarship fund bearing his name at the University of Georgia School of Law. The fund will provide support for scholarships, summer fellowships or Georgia leaders-in-residence at the School of Law, in memory of Ralston, who died in November 2022 at the age of 68.
The fund was established by Joel O. Wooten, a 1975 graduate of the School of Law, who knew Ralston for many years, with the University of Georgia Foundation offering matching funds.
"David Ralston was a good friend who spent much of his life in public service, working to move our state forward," Wooten said. "David had the knack of bringing people on both sides of the aisle together, and he treated everyone with civility and respect. He was a true leader who cared about people and studied issues carefully before acting. David would listen and work with various interests to come up with the best, most workable solutions to help Georgia and its citizens."
Wooten continued: "A small-town boy from North Georgia, David was a proud graduate of North Georgia College, a proud 1980 graduate of the University of Georgia School of Law, and a proud Bulldog. David was a very good attorney and he practiced law in North Georgia for over 40 years. He was a friend to many across the state. The David E. Ralston Memorial Fund will continue his legacy by setting up scholarships and fellowships for deserving recipients who want to go to law school at the University of Georgia, who have an interest in legislative affairs and may want to work or clerk at the Georgia State Legislature, and who may want to serve rural or legally underserved communities in our state."
Ralston was first elected to the Georgia House of Representatives in 2002, representing Fannin and Gilmer counties and a portion of Dawson County, and was named the 73rd Speaker of the House in 2010. He was the longest-serving state house speaker in the United States at the time of his death. He served in the Georgia State Senate from 1992 to 1998. Aside from his legislative duties, Ralston was a practicing attorney in Blue Ridge.
"It is an honor for this fund to be named in recognition of Dad," said Ralston's son, Matthew, a spokesperson for the family. "His dream when in law school was always to return to the North Georgia mountains to practice law and serve the area of the state where he grew up. As Speaker of the House, he reminded his colleagues in the state House that your zip code should not dictate your direction in life. Through his years of public service, Dad adopted the philosophy non sibi sed aliis – not for self, but for others. The David E. Ralston Memorial Fund will allow recipients to follow in that same principle and be able to serve the rural parts of the state after receiving a world-class legal education."
UGA President Jere W. Morehead also remarked on Ralston's legacy, saying, "David Ralston and I were lifelong friends and law school classmates. His very busy and extraordinary career never interfered with his faithful support of the University of Georgia."
Acknowledging that it is always difficult to lose a member of the UGA Law community, School of Law Dean Peter B. "Bo" Rutledge said he would like to thank Joel Wooten, as well as 2021-23 UGA Foundation Trustee Chair Neal J. Quirk Sr., and President Morehead – who are all three School of Law graduates – for their ongoing support of the law school.
"I am heartened by this gift, which will not only honor Ralston but aid the School of Law as it redefines what it means to be a great national public law school that is accessible for any student who strives to serve state and society through a legal career," he said.
###
Writer/Contact: Lona Panter, 706-542-5172, lonap@uga.edu
UGA School of Law
The University of Georgia School of Law is redefining what it means to be a great national public law school – offering a world-class, hands-on, purpose-driven educational experience – while continuing to be one of the best returns on investment in legal education. The school's accomplished faculty includes nationally and internationally renowned scholars, and its approximately 11,500 living graduates are leading figures in law, business and public service throughout the world. Connecting students to these thought leaders and opportunities to serve state and society is central to the school's mission. For more information, please see www.law.uga.edu.