Assistant Professor of Law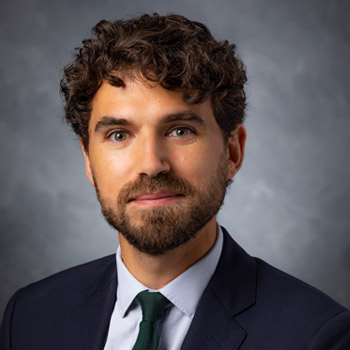 University of Georgia
School of Law
Athens, GA 30602
United States
M.A., University of St Andrews
J.D., University of Michigan Law School
Ph.D., Yale Law School
Courses
Torts
Cybercrime
Regulating Digital Abuse
Biographical Information
Thomas E. Kadri joined the University of Georgia School of Law faculty in the fall of 2020 as an assistant professor. He holds a courtesy appointment at the Grady College of Journalism and Mass Communication and is an affiliate faculty member at the Institute for Women's Studies and the Institute for Cybersecurity and Privacy.
Kadri's research focuses on torts and criminal law, with an emphasis on how technology, law, and social norms enable and affect privacy, speech, and abuse. His scholarship appears in journals including the Harvard Law Review Forum, UCLA Law Review, Texas Law Review, Utah Law Review, Maryland Law Review, and Journal of Free Speech Law and he has published shorter pieces in The New York Times and Slate. In 2021, he received a National Science Foundation grant to fund a $750,000 project on digital evidence and privacy rights. As a principal investigator for this interdisciplinary collaboration with computer scientists, he will research if artificial intelligence can constrain police discretion in searching digital devices while satisfying constitutional and statutory privacy laws.
Kadri teaches Torts, Cybercrime, and a seminar on privacy and digital abuse. He is the author of Tort Law: Cases & Critique, an open-access casebook that he publishes for free online. In 2022, he was awarded a UGA Lilly Teaching Fellowship  — "the 'jewel in the crown' of junior faculty development and engagement on campus." He also serves on the executive committee for the AALS Section on Torts and Compensation Systems and as faculty supervisor for the Middle Eastern Law Student Association and the Privacy, Security, and Technology Law Society.
Kadri is actively engaged in legislative and service work that builds on his scholarship. As an affiliated researcher and legislative & policy director at the Clinic to End Tech Abuse at Cornell University, he leads the organization's advocacy efforts and advises federal and state legislators on laws to protect survivors of abuse. For example, he testified as an expert witness before the U.S. House of Representatives subcommittee on Communications and Technology in support of the Safe Connections Act, providing feedback on the bill as it progressed through both chambers of Congress. He also serves on the board of directors for Project Safe, a nonprofit working in and around Athens to tackle domestic violence.
Before entering academia, Kadri served as a judicial clerk for Judge M. Margaret McKeown of the U.S. Court of Appeals for the Ninth Circuit and Judge Thomas Griesa of the U.S. District Court for the Southern District of New York. He also worked with the Federal Public Defender in Ohio and assisted the legal team behind the case that ultimately reached the U.S. Supreme Court as Obergefell v. Hodges, which guaranteed same-sex couples the right to marry. He has served as an adjunct professor at New York Law School and as a visiting scholar at Insper São Paulo. In recent years, he has pursued research in Brazil and Argentina as a MacMillan Center Fellow and presented his work in Brazil, Canada, the United Kingdom, and the United States. He is fluent in French and conversational in Portuguese and Spanish.
Raised in a Lebanese-British family, Kadri spent most of his childhood in England and France. After earning his undergraduate degree in International Relations from the University of St Andrews in Scotland, he moved to the United States to attend Emory University as a Bobby Jones Scholar. He received his J.D. magna cum laude from the University of Michigan, where he served as executive editor of the Michigan Law Review, was inducted into the Order of the Coif, and won the Henry M. Bates Award — the school's highest honor. He then earned his Ph.D. in Law from Yale Law School, where he was a Mellon Fellow.
Publications & Activities
ARTICLES:
Brokered Abuse, 3 J. Free Speech L. 137 (2023)
Juridical Discourse for Platforms, 136 Harv. L. Rev. F. 163 (2022). 
Platforms as Blackacres, 68 UCLA L. Rev. 1184 (2022).
Digital Gatekeepers, 99 Texas L. Rev. 951 (2021).
Networks of Empathy, 2020 Utah L. Rev. 1075 (2020).
Drawing Trump Naked: Curbing the Right of Publicity to Protect Public Discourse, 78 Md. L. Rev. 899 (2019).
BOOKS:
Tort Law: Cases & Critique (3rd ed., 2023).
CHAPTERS:
"Cy Pres Settlements in Privacy Class Actions," in Class Actions in Privacy Law (Ignacio Cofone ed., Routledge, 2020) (with Ignacio Cofone) (Spanish translation published as Acuerdos Cy Près en Acciones de Clase sobre Privacidad, 2 Revista Jurídica Austral 33 (2021)).
POPULAR PUBLICATIONS:
The Legal Implications of Synthetic and Manipulated Media, Carnegie Endowment for International Peace (2019).
How Supreme a Court?, Slate (2018).
How to Make Facebook's 'Supreme Court' Work, N.Y. Times (2018).
Speech v. Speakers, Slate (2018).