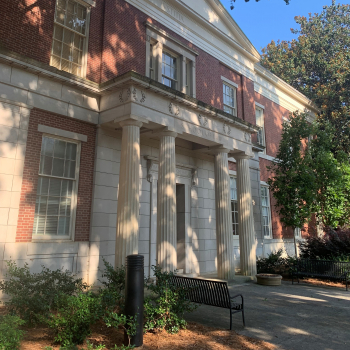 In August, the School of Law proudly welcomed approximately 220 students who will become future leaders for state and society. These Juris Doctor, Master of Laws and Master in the Study of Law students will earn their first-rate legal education from an institution that is considered our country's best return on investment in legal education.
There are 198 students in the J.D. Class of 2024, and they comprise the most academically credentialed class in the law school's history – boasting a median LSAT score of 166 and median undergraduate GPA of 3.82. These students are pursuing the traditional three-year law degree and bring varied backgrounds to the School of Law community. Nineteen are first-generation college graduates, while seven are military veterans. Approximately 23 percent self-identify as belonging to a minority group. Collectively, these J.D. students studied at 75 undergraduate institutions and claim 27 different states as home.
Seventeen students from 12 countries are enrolled in the Master of Laws (LL.M.) program. This one-year degree is for foreign-trained lawyers seeking knowledge of U.S. and international law to enhance their legal careers. This talented group includes a Fulbright Scholar, two judges and experienced corporate and private practice attorneys.
M.S.L. students are those who are looking for a greater understanding of the legal system as it intersects with their professional interests. The seven entering M.S.L. students include professionals with corrections, legal services, insurance and military backgrounds as well as recent college graduates. While some already hold a master's degree in another field, they are pursuing the M.S.L. to further their education and bolster their careers. These students will study in Athens, Atlanta or a combination of both locations.
All School of Law students are prepared to become the legal leaders of tomorrow by world-class scholars and thought leaders. Connecting students to a range of professional development and service opportunities – such as judicial clerkships, fellowships, research assistantships, externships and study/work abroad programs as well as an accomplished moot court and mock trial program, three legal journals and experiential learning programs – is central to the school's mission.
The School of Law is excited to welcome these students to the UGA School of Law community and to help prepare them to find their path benefiting state and society.
All statistics as of 8/12/21.