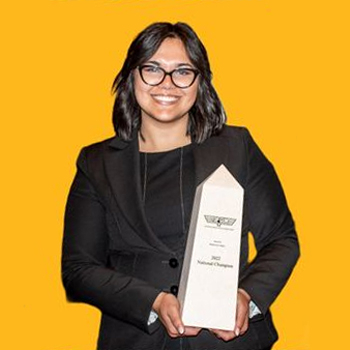 Congratulations to 2022 graduate Haley K. Kairab for winning the Top Gun XIII National Mock Trial Competition. Kairab tried the case as a solo advocate, and 2022 graduate Cole M. Harper was her co-counsel/trial technician.
Top Gun is an invitation-only event for law schools that have excelled at mock trial competitions during the past year or otherwise distinguished themselves in their dedication to trial advocacy training. The grueling matchup is limited to just one competitor from each of the 16 participating law schools. Kairab did not receive any details about the case she argued until 24 hours before the competition began.
The team was coached by Joe Lester, the former associate director of advocacy at American University Washington College of Law.
This is the first time UGA has won this competition.