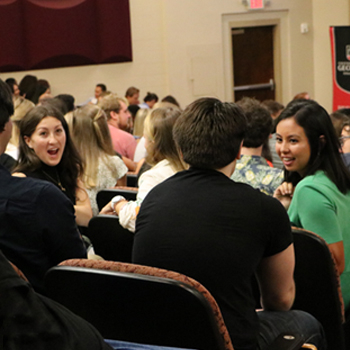 Today, the University of Georgia School of Law welcomes an incredible array of students from around the world, including the most academically credentialed J.D. class in history.
The 169 students in the Juris Doctor Class of 2025 comprise the most academically credentialed class in the School of Law's history – boasting a 168 median LSAT score and a 3.87 median undergraduate GPA, both record highs for the School of Law.
Credentials aside, this cohort brings an amazing set of stories. It includes 21 first-generation college graduates, all of whom receive financial support as well as programmatic offerings through the First-Start Scholars Program (initiated by a gift from 1982 alumna Kathelen V. Amos and the Daniel P. Amos Family Foundation). It adds several former female military officers to our veteran ranks, all of whom are guaranteed financial assistance by the Butler Commitment (proudly supported by 1977 alumnus Jim Butler). Fifty-five percent of the entering class are women, and nearly 30% self-identify as belonging to historically underrepresented groups.
Further diversifying our ranks and enriching our law school campus this year are 23 talented Master of Laws students. Representing the largest LL.M. class in more than a decade, these legal professionals hail from 15 countries, including three students from Ukraine. Coming from five continents, these foreign-trained lawyers are very well prepared for their year in Athens. Eight hold advanced law degrees. With more than half already having two-plus years of practice experience, the class includes two Fulbright Scholars, a federal judge and a career prosecutor. 
Our Master in the Study of Law program welcomes 11 new students who seek to wed the study of law with their professional interests. This incoming group includes an engineer, a substance abuse counselor, a film/theatre costume designer, a firefighter/investigator who is also a veteran, a student-athlete, a social worker and several recent college graduates and business professionals who are all eager to earn a graduate degree in law. These M.S.L. students will study in Athens and Atlanta. 
Alongside these talented professional students, we welcome 120 new students to our extremely popular undergraduate minor. In its second year, the Undergraduate Minor in Law, Jurisprudence, and the State has tapped into a pent-up demand among UGA undergraduates for innovative course offerings in law. Whether these students eventually pursue law school or use their legal education for other endeavors, they benefit from first-rate legal training from the dedicated professors on the School of Law's faculty.
"It is an exciting time for our students," School of Law Dean Peter B. "Bo" Rutledge said. "Thank you to alumni, alumnae and friends for being a part of their achievements. In the year ahead, we will remain laser-focused on our vision to be the nation's best return on investment in legal education and, with this class, seek to redefine what it means to be a nationally preeminent public law school – offering a world-class, hands-on, purpose-driven educational experience while never surrendering our commitment to accessibility."
Statistics as of 8/16/22