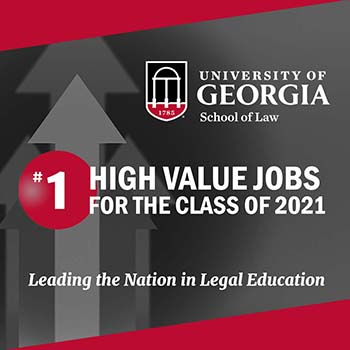 The University of Georgia School of Law has posted the #1 employment rate in the nation! More than 97% of the Class of 2021 has secured full-time, long-term jobs that require bar passage or where a J.D. provides an advantage. These High Value placements include many sectors – private practice, judicial clerkships, business and industry, education, government and public interest – and these recent graduates are working in 26 states and abroad. Name any law school in the country; we outpaced them and outplaced them (as long as one doesn't count the law-school-funded jobs that some schools provide).
"These former students have worked so hard on their journey to become legal leaders for our state and nation, and their success can be traced back to the support they received from faculty, staff and our alumni/alumnae and friends," School of Law Dean Peter B. "Bo" Rutledge said.
"In particular, I want to praise our Career Development Office – led by Assistant Dean Tony Waller (J.D.'93), who is presently serving as president-elect of the National Association for Law Placement. Tony and his team work tirelessly to meet with every student individually, provide useful programming and assist employers and students with finding the right opportunities," he said. 
This #1 ranking attests to the School of Law's vision of being the best return on investment in legal education and its goal to redefine what it means to be a great national public law school – offering a world-class, hands-on, purpose-driven educational experience while never surrendering our commitment to accessibility.
"This is truly an exciting time at the law school. The importance of the continued support from our alumni/alumnae and friends in the form of employment opportunities; service as mentors or guest speakers; and contributions for scholarships, bar prep stipends, professional attire, clinic operations and student mental health cannot be overstated. Thank you for all you do and for helping your law school to achieve this national title!" he added.
Source: American Bar Association