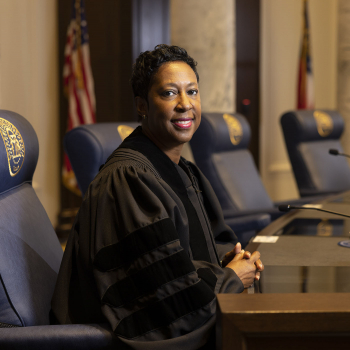 The Honorable Verda M. Colvin shares lessons during Holmes-Hunter Lecture
Become comfortable being uncomfortable.
The Honorable Verda M. Colvin, a Georgia Supreme Court justice and UGA School of Law alumna, shared the value in that statement during the 2023 Holmes-Hunter Lecture, held Feb. 28 in the Chapel.
"We all must consciously decide to become comfortable being uncomfortable and engage with one another regardless of racial or cultural differences," she said.
Named in honor of Hamilton Holmes Sr. and Charlayne Hunter-Gault, the first African American students to attend the University of Georgia, the lecture is sponsored by the Office of the President and focuses on race relations, civil rights and education. It has been held annually since 1985 and is designated as a Signature Lecture.
"This annual lecture serves as an important opportunity for our university community to honor two of the University of Georgia's most iconic individuals," said UGA President Jere W. Morehead. "Since Charlayne and Hamilton first stepped through the Arch, a great deal has changed for the better at this institution."
The Holmes-Hunter Academic Building, named for these two trailblazers, is currently undergoing a historic $30 million renovation that will make the building a center for student activities. The project is scheduled to be completed next year and open in fall 2024.
Colvin said that Holmes and Hunter-Gault "have our deepest and collective respect for their sacrifice 62 years ago." They pressed to become comfortable being uncomfortable, despite the challenges they faced desegregating the university.
"Their actions—their willingness to become comfortable being uncomfortable—caused us as Georgians to evolve and steadily move beyond where we were to progressing toward a committed community that recognizes true democracy and embraces all people, recognizing the values and contributions of every individual," she said.
Colvin spoke about how that idea can be found in some of the nation's most important documents and doctrines, from the Declaration of Independence to the Pledge of Allegiance. They demand something of Americans—to get to know, understand and respect all people.
Despite the racial and cultural differences dividing people, Colvin suggests looking for the similarities.
"We are all humans. We are all Americans. We all choose to care for our family and friends. We all want the best for our loved ones. We all desire to be valued," she said.
For Colvin, choosing to see each other as allies and comrades rather than foes and adversaries makes journeys like Holmes' and Hunter-Gault's meaningful. She added that educational institutions like UGA are vital because they expose students to people and matters beyond their front doors.
Colvin added that the greatest lessons come from young children. On playgrounds, they are simply concerned with running, playing and laughing with other children—not their race or cultural background.
"Children show us in such profound ways how we should engage with one another as adults," she said.
When people decide individually and collectively to become more comfortable being uncomfortable, the lines dividing them can be demolished, Colvin said.
"We all—each and every one of us—are the keepers of democracy," she said.
As part of the lecture, Richard Dunn and Xernona Thomas also were honored as the 2023 recipients of the Footsteps Award. This annual award recognizes UGA graduates who are following in the pioneering footsteps of Hunter-Gault, Holmes and Mary Frances Early, UGA's first African American students.
Written by UGA Marketing and Communications' Krista Richmond