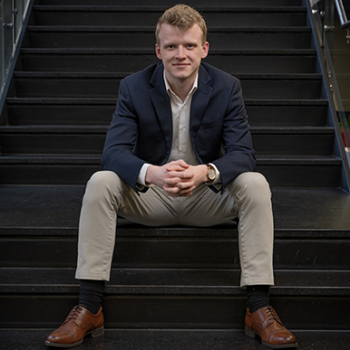 Summer public interest and judicial fellowships provide life-directing, hands-on and purpose-driven experiences for law students. As such, the School of Law has placed greater emphasis on growing financial support for students seeking unpaid legal work in nonprofits, federal and state government, judicial clerkships, legal services and policy/impact organizations over the summer months.
Since 2019, the school has provided almost $1.3 million in summer fellowship funding to its rising second- and third-year students.
Rising third-year student Jake R. Shatzer, recipient of the Bool Simkins Summer Fellowship – the law school's largest annual public interest grant – worked in the Georgia Public Defender Council Office of the Appellate Defender this past summer. He said the fellowship allowed him a closer look at what criminal law is like so he could determine if he wanted to pursue it in the future.
"All the hands-on experience I got this summer will make me a better litigator coming out of law school," Shatzer added. "It also gave me the opportunity to network with public defenders across the state – providing connections and sources of advice for my career going forward."
This past summer, more than 75 law students honed their legal skills throughout the state of Georgia and the nation in the courts, prosecutor and public defender offices, legal aid agencies, the U.S. Equal Employment Opportunity Commission and the U.S. Agency for International Development. A few also aided international organizations like eLiberare and No Peace Without Justice.