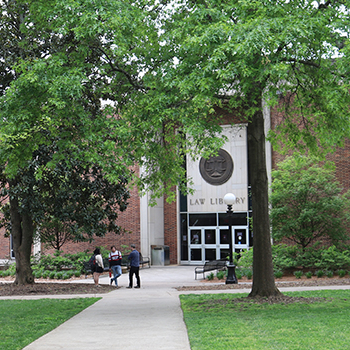 The School of Law is pleased to share that once again 100% of the first-generation college graduates and military veterans enrolled in its Juris Doctor program are receiving aid.
First-generation students are supported by more than 20 scholarship funds including the First-Start Scholars Program established by 1982 alumna Kathelen V. Amos and the Daniel P. Amos Family Foundation. This initiative has grown from first-generation students in the 2019 J.D. entering class receiving a scholarship to every first-gen J.D. student getting aid for the third year in a row.
Student veterans benefit from the Butler Commitment, which was created in 2019 by renowned trial attorney and 1977 law school alumnus James E. "Jim" Butler Jr. and guarantees aid to all enrolled military veterans.
The School of Law is redefining what it means to be a great national public law school by offering a world-class, hands-on, purpose-driven educational experience with a pioneering commitment to accessibility and affordability, according to Dean Peter B. "Bo" Rutledge.  
Some recent statistics supporting this statement include:
#1 or 2 Best Value Law School for the last six years (National Jurist).
Nearly 99% Ultimate Bar Passage rate for Class of 2020 graduates.
50% reduction in aggregate annual student borrowing compared to 2013.
87% of students receiving scholarships (2021-22).
18 clinics and externships, with 94% participation (Class of 2023).